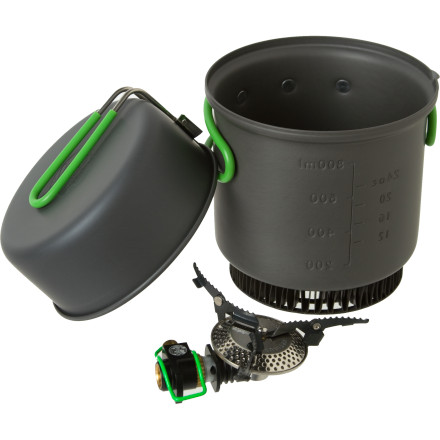 Detail Images

Community Images
Description
Whip up one of your favorites in your outdoor kitchen.
Disappear into the mountains with the Optimus Crux Stove with the Terra Weekend HE Cook Set. Compact and efficient, the Crux incorporates a folding stove, saucepan with pouring lip, fry pan, storage bag, and neoprene sleeve to accommodate all your backcountry cuisine needs.
Weekend HE pot has a bottom heat-exchange system to improve boil times and improve fuel efficiency
Weekend HE pot is designed for a 230g fuel canister, the stove, and a foldable spork (not included) to nest inside
Set includes: Crux stove, 0.95-liter Heat Exchange pot, lid that doubles as a fry pan, mesh storage bag, and neoprene sleeve for on-trail storage
Is there a coffee press that fits this?


Optimus doesn't make a coffee press for any of their cooksets.
light weight
Familiarity:

I gave it as a gift but have feedback to share
This is a great tool for a great hike.
Don't let the cuteness fool you.
Familiarity:

I've put it through the wringer
It' s just the cutest little cookset there ever was and as a plus it's more portable than my easybake oven was (rest in peace). But, don't let looks fool you, this lil gal is powerful. In nonwindy conditions you could have yourself a good almost-liter of piping hot water in under three minutes; fantastic when you're cold, wet, and hungry like I often find myself being. I've used it on a backpacking trip through Iceland and in the Chugach and it's been Indispensable.



It's real strength is in it's excellent even output and packability, the stove and fuel canister all conveniently fit inside the pot and lid. However, a couple issues I've had are with the wind, the small base, and dirty dishes. Strong gusts in your general vicinity increase the amount of time it takes to bring things to a boil, this is easily fixed though by standing in front of the stove (these hips are useful for a lot of things) or as I have found the lid also makes for an exquisite wind guard. Next, the footprint of the stove is determined by the size of fuel canister you use. So with canisters that fit inside being a tad smaller than the pot, it can make for a wibbly wobbly good time, just pick your cooking area wisely. The three pot supports also appear a bit narrow, but I've never had an issue with something sliding off. Lastly, I discovered to my complete surprise that food residue makes it difficult to pack everything into the pot again, Who would've thunk? Anyways, as long as you're not a complete slob and clean up after yourself or have a tongue long enough to lick the bottom of the pot (call me), then you will be FINE.



In summary: It's a great easily packable lightweight cook set with a strong and even high output flame. However, it is prone to strong winds and difficult to maintain a simmer. Four stars because this is the real life, but it will always have five stars, in my heart.
Comprehensive, capable, compact
Familiarity:

I've put it through the wringer
I am a really big fan of this cook system. Used the Jetboil for a lot of years until I picked this up.



Boils water very fast, at 5,000 ft I had 500ml of water boiling in about 1 minute. At 10,000 ft 500ml boiled in just under 2 minutes. Flux ring on the pot helps evenly distribute the heat. Haven't used the pot yet. I think the stove runs to hot to try and simmer or cook something but I haven't actually given it a go yet.



User friendly, easy to light. Green means go! It's ok to touch anything that is green. Don't touch anything else though or you'll get burned.



The stove itself is really small and folds down wicked tiny. It fits into a neoprene pouch that comes with the cook system that then wraps around a 230g fuel canister. The stove fits in the concave bottom of the canister and then you slide it into the pot, put the pan (lid) on the top, put it in the mesh storage bag and you're good to go.
Comprehensive, capable, compact
Great stove
Familiarity:

I've used it once or twice and have initial impressions
This bad boy boils water in under 3 minutes. It's super efficient and gets the job done. I take it hiking and backpacking with me everytime. It's definitely worth the money!
Awesome stove
Familiarity:

I've used it once or twice and have initial impressions
This thing boils water with ease. This comes in handy when you are famished from a long hike, and just want to eat!

I love the compact design that incorporates a nice spot to hold a gas canister. Everything fits into a nice little package, that can be tucked away in your pack.

Definitely looking forward to using this cook system more.
Here is a picture from my recent trip to Zion National Park. Early morning coffee to get my day started.
Optimus Terra Cookset in the House!
I have used my Optimus Terra .6 L Solo Cookset for years now off an on. The great thing about the Optimus Terra .6 L Solo Cookset is that is can hold a 110g IsoButane canister and a Crux Stove inside it, and gets wrapped up in a nice mesh bag. I changed out my bag to a shock cord string cause it seemed to be better at holding the push button mechanism in place. The Optimus Terra .6 L Solo Cookset works well, is made of anodized aluminum and is lightweight. Has nice markings to show how much liquid to add, etc. Berz Rating: 93/100



Specs:

Size: 4.2 in. x 5.4 in.

Weight: 7.1 oz.



www.facebook.com/CaptainBerzFanPage

www.twitter.com/CaptainBerz

www.captainberz.com
AWESOME
Familiarity:

I've used it several times
Light weight, fasy boiling, compact. My favorite features are the option to put the fuelin the main pot along with the folding stove and i also put a sea to summit folding cup in it and use the neoprene cover instead of the top pot/cover to make it more compact.
Good as advertised
Familiarity:

I've used it once or twice and have initial impressions
Boiled water super fast. I primarily use this as a way to get my coffee made in the mornings while I camp. Has not disappointed.
Awesome for backpacking
Familiarity:

I've used it once or twice and have initial impressions
I bought this item because a buddy of mine got one for the holidays and we tested it out on an alpine tour in the Wasatch - what we call "soup jam." It cooks very quickly and is easy to use. Lightweight and packable.



Stuff sack comes with and you can fit the fuel canister and stove within the pot and lid for a nice snug fit to pack away.
I picked up this set because I knew I wanted the stove and thought with the identified weight in the Backcountry.com description that I would be saving weight over my Coleman pot set from Wally World.



Instead, I found that the weights listed for this set are WRONG - bad wrong! The set actually weighs 14.3 ounces, almost a full pound and 4.6 ounces more than the advertised weight. The pot and its stuff sack alone (without the stove) weighs 10.5 ounces (9.9 ounces w/out the sack).



So I am really disappointed, especially since this pot & lid actually weighs MORE than my Wal-Mart cookset. I thought about sending it back but really like the stove and don't want to deal with the hassle of trading it all out.



As stated, I really like the stove and recommend it fully but cannot recommend this set, especially since you can get something cheaper, equally well made, and lighter in the camping section at at Wal-Mart.
i love the stove .. but....
Gender:

Male

Familiarity:

I've put it through the wringer
you will not find a faster, easier canister stove set up. with the crux and the weekender HE pot, i've boiled 2 cups of fairly cold tapwater in 1:20, with average around 1:30. super fast. my only gripes are that the graduated measurements on the inside of the pot, while convienent, are inaccurate. the marks are 2 ounces more than actual amount of water ('16' is actually 14 etc..) the other, is that i haven't found a way to cook anything in the "frying pan" lid that hasn't required painstaking cleaning to remove from the bottom. if anyone has had any luck cooking pancakes or eggs please let me know. other than those 2 things.. this stove has completely exceded my expectations and is a pleasure to use. great job optimus.
Great stove
Gender:

Male

Familiarity:

I've used it once or twice and have initial impressions
First time out boiled water for three and we all were impressed how fast it worked. Used the fry pan/lid to help. Just what I wanted and it meets all expectations. Others were impressed with how small it folds and fits under the canister.
Does the pot and frying pan have a non-stick...
Does the pot and frying pan have a non-stick coating?
Hey Sean Chism,

I checked on your question and I found that the Terra Weekend HE Cook Set that comes with the Optimus Crux stove does not have non stick coating.
Optimus Crux w/HE Cookset, Very Functional
Just received the Optimus Crux Stove with Terra Weekend HE Cook Set, and am very impressed with overall quality, design, and functionality.

The stove itself is very compact and lightweight. In the open position the stove will be about 3" tall, with the same length while folded and laying flat. The cooking surface (for lack of a better term right now) opens up to a diameter if approximately 4", fitting the AL pot and pan perfectly and safely on top. The folding feature is pretty genius, allowing the stove to pack down small enough to fit easily into the concavity of pretty much any ~230g isopro fuel canister. I tested this out initially with a 227g MSR Isopro canister and the fit was just fine.

Optimus has included with this cook set a small neoprene/mesh carrying case that ingeniously and securely stores the folded stove beneath a fuel canister with ease. I will include an image or video with this review to better demonstrate how this system works.

The HE aluminum pot is designed well, having a small pouring spout and a comfortable grip. The heat exchanger works incredibly well, saving fuel and reducing energy consumption, while boiling water in about 3 minutes. The measurements being listed on the inside of the pot are also a solid feature, allowing one to see exactly how much water is inside the container. I'm also a fan of the fry pan as it may double as a lid for the pot, reducing boil times. An excellent little pan for eggs, biscuits, or anything else you could imagine cooking in it.

My only complaint is that the cooking 'spines' are somewhat hard to extend from time to time, but that's not enough of a problem to deduct a star.

Link to Optimus video - http://www.optimusstoves.com/seen/technical-support/product-videos/optimus-crux/