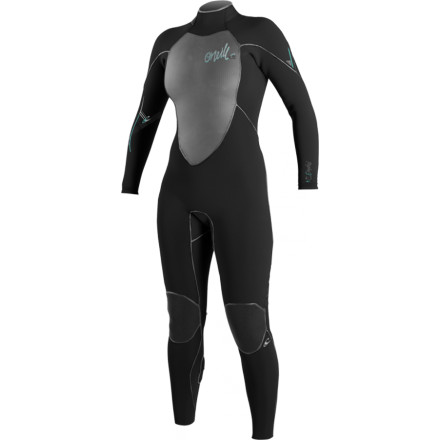 Detail Images
Ladies, surf longer and in comfort when you use the O'Neill Women's Psycho 3 Z.E.N. 4/3 Backzip Full Wetsuit. Designed specifically around your curves, this incredibly lightweight, flexible, and well-insulated wetsuit keeps the shivers and blue lips at bay so you can comfortably paddle and surf in autumn-like surf conditions or chilly waters.
Designed with 4/3mm Technobutter neoprene, the Psycho III features super-stretch neoprene that's 20% lighter and has 30% less water absorption than other neoprene fabrics on the market. In addition, the Technobutter is UPF 50+ to help protect your skin from dangerous UV rays. For improved comfort and warmth, O'Neill gave the Psycho III XDS-Air Firewall insulation in the chest and back to help combat cool winds when you sit up on your board and wait for a set to roll in.
Double Superseam Weld seams have a narrower silicone-based urethane seal applied to both sides of its triple-glued, stitchless seams to help lighten the wetsuit and provide less bulk and restriction. Incorporated with Super Seal cuff technology (a low cuff profile) the Psycho III is able to provide incredible insulation and keep out water. Thanks to its Z.E.N. back zip entry with drain hole (pullover internal neck seal), the Psycho III blocks out water for maximum performance while any additional water that penetrates the Z.E.N. collar or super-short zip is blocked by the Barrier 2 and forced out the drain hole. Krypto knee pads protect your knees and boost durability, while an external key pocket securely stashes your car or house key.
4/3mm Technobutter neoprene
Cold to cool surfing conditions
UPF 50+ rated fabric
XDS-Air Firewall insulation in chest and back
Double Superseam Weld
Super seal cuffs
Z.E.N. back zip entry with drain hole
Barrier 2
Krypto knee pads
External key pocket