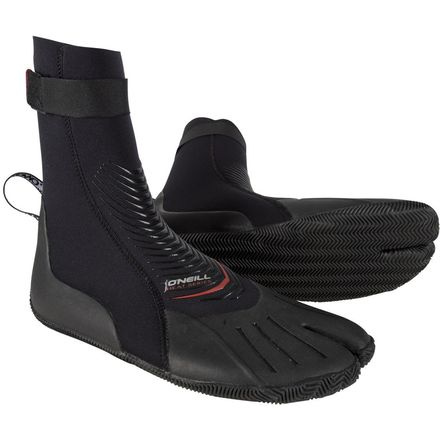 O'Neill's Heat 3mm Split Toe Boots mean you no longer have to choose between staying warm and staying in control of your board. The split-toe construction encourages ergonomic movement and balance, while flat seams and the solid hook-and-loop closure keep everything fitting the way it's supposed to—snug and rash-free.
What do you think about this product?
Have questions about this product?
They get the job done so far. Comfortable and way better for walking through rocks than bare feet.
Its tough for me to compare these to other booties because they are the first new ones ive bought in a long time but I have no complaints. They kept my feet warm in Nor Cal water, they seem to be well constructed, they are comfortable, and easy to peel on and off.
Great booties! they keep my feet nice and comfy on those colder days. I have heard people say that if you are a half size you should go down but i would NOT recommend that with these. they seem to run fairly small already and the boot does loosen up a bit once they get wet but only the neoprene does, not the rubber sole, that bad boy stays true to size! i wear a 10.5 and the 10 crushed my toes and the 11 fits nice.