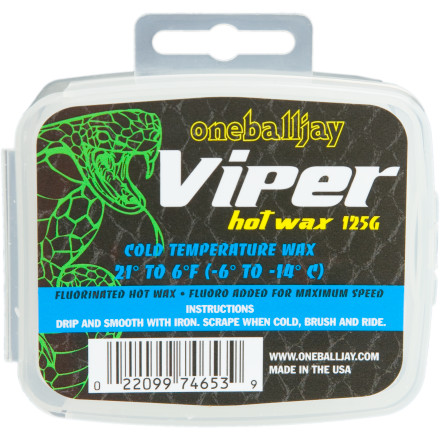 Keep your base running fast—really fast—with OneBallJay's Viper Hot Wax. This mega-flourinated, warp-speed wax comes in two temperature ranges. Combine both into a hot-wax cocktail for optimized glide in any snow conditions.
'Warm' designed for snow temperatures from 32F to 21F (0C to -6C)
'Cold' designed for snow temperatures from 21F to 6F (-6C to -14C)
What do you think about this product?
Have questions about this product?
Fastest Wax Ive Ever Used
Familiarity:

I've used it several times
The title explains it all. I've used about every reasonably priced wax on the market including some ski racing specific waxes and this stuff is my new favorite. I work on a sign set up crew at Park City Mountain Resort with some skiers and after I waxed my board they asked "What did you put on your board? Lightning?". I combine both cold and warm waxes for an all temp coating. Spring riding hasn't rolled around yet so I havent used the warm on its own, but I have been pleased combining them so far. Easy to iron and scrape with a non-offensive odor. Also lasts quite a while. The most important part though is this stuff is FAST without spending race wax kinda money.
How many hot wax applications should this...
How many hot wax applications should this last for? Should I expect a season out of this or like a month?
Depends how heavy handed you are with the application and how big your skis/board are, but I would say 8-10 waxings.