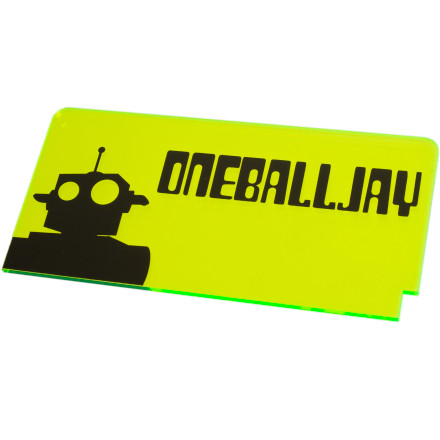 Description
Domo arigato Roboto.
Be prepared for a cold battle with a good coat of OneBallJay wax every week of riding. After you apply OneBallJay wax, scape the excess with the most bad-ass, fear-instilling scraper in the universe; the Roboto Plastic Scraper.
It's a scraper though and works as they should. The notch makes getting wax off your edges a little easier too.
I'm upset, but whatever, it works fine
Familiarity:

I've put it through the wringer
I really liked the robot like everyone else, but it doesn't come with the robot. My first reaction felt like the sadness of a crying wolf, but it works fine and does what it needs to do. So if your getting this because of the robot, DON'T get this one.
Just a boring scraper, no robot
Familiarity:

I've used it several times
There are a lot of scrapers out there, both on this site, at gear stores, and in the ski shops. I know it's a small thing, but I bought this one because it had the cool graphic - except it doesn't. Scraper works, boring, but it works.
Did an older version of this scraper have the robot on it? I got mine in the mail today, and I'm not going to lie, I was slightly disappointed there was no robot.
Mine was boring and blank too, honestly, I think the brand name is juvenile and would have picked another if I knew it didn't have the robot
DOMO!
Familiarity:

I've put it through the wringer
I finally decided to put away the credit card and get the right tool for my wax job. Mr. Roboto came into my life and things have never been the same sense. Thank you very much Mr. Roboto!
scraper gets the job done...plain and simple.