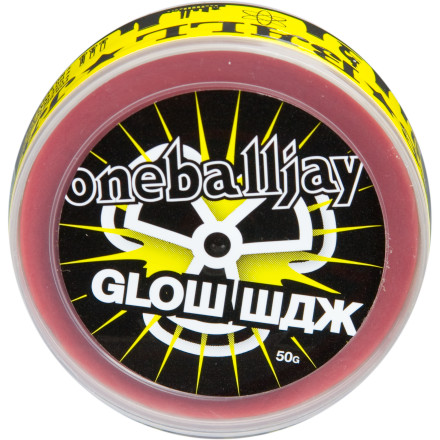 Colors
Description
It's fast, and it glows.
We're not quite sure how the OneBallJay mad scientists did it, but they managed to get their warm weather Glow Wax to leave glowing green contrails in the snow. Is it some mysterious kryptonite or radioactive substance? Who knows, and who really cares? Because this rub-on or hot wax lets everyone on the mountain know where you've been at. Which could be both a good and a bad thing? Hmmm ... anyway, a 50-gram container gets you further than that scented candle you've been rubbing on your bases since 1992.
works good in the slush for about 3-4 runs. u can defiantly see the green streak though.
I got this wax because I figured that leaving a green trail behind me would be pretty cool and I guess it was. The problem with this wax though is that it lasts maybe 1 run and the green gets on everything. The quality of the wax isn't good either. Normally with your wax is it nice and smooth but this wax is gritty. When you are waxing with this you can feel small grits throughout the wax. Would not recommend using this on any board.
Unanswered Question
So does it actually leave a green trail...
So does it actually leave a green trail behind you?
So the glow wax is pretty sick as far as style goes. As a wax, it's not the best but it looks badass on the slopes. Biggest con is the mess it makes, if you get it on your clothes, it's hard to clean and you have to make sure your board is completely dry before you put it in your car.
it works!some magic green lines are on the track!