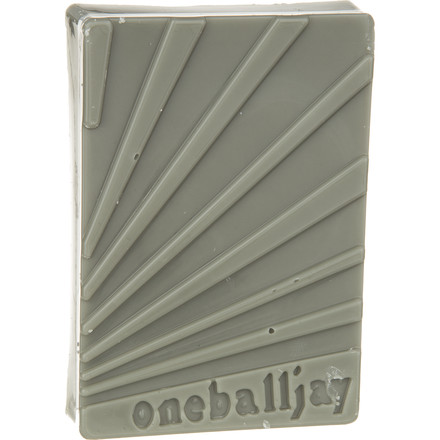 Colors
Description
One Ball Jay makes Bio Green Hot Wax out of soybeans to protect your planet.
Worried that your current board wax is out of tune with Mother Earth? Soy-based One Ball Jay Bio Green Hot Wax helps you go fast in good conscience. We've never thought about it too hard before now, but what are most waxes made from exactly? Let's see here—wait, wtf? Petroleum? Aww man, and we just converted our Hummer H2 to fryer grease last week. It looks like we're still dependent on foreign oil, unless we can drill in the Arctic National Wildlife Refuge to get our board wax. What's that? One Ball Jay Bio Green Hot Wax is made from renewable soybean oil? Nice one.
Eco wax that powers through flats
Familiarity:

I've put it through the wringer
Used this wax at jay peak and stowe in temps in the negatives and single digits. The wax performed well and I never had to unstrap and push even on the third day. I applied a uniform thin coat and scraped while it was still warm. I did not get all of it off but it will come off on the hill and did not slow me down. I will buy this again since it is made from soybeans and worked well.
Green wax yay! Good wax no :-(
Gender:

Male

Familiarity:

I've used it once or twice and have initial impressions
So I really like that this is environmentally friendly wax! I have only used this stuff in cold weather (air temp approximately 10 degrees) so keep that in mind. The universal wax was slow! I waxed it according to the mantra "thin to win" and it did not win. I will continue to use the wax, hopefully it works better for warmer conditions. BTW, I did not have any problem scraping this stuff as noted by other reviewer but I did not leave it on for much longer than the cooling process.
Got this wax, and it works as well as most other waxes I have used. One complaint I would have is that it came in a nasty dark green color, which shows against the white bottom of my board, unless I really scrape it hard.
I tried this wax cause I read reviews that said it was good. Well I used it once and never again. I let it sit for an hour and it was so hard to scrape off. It never looks or feels Like you scraped it all off. There are other waxes out there that I prefer and sure there are others that are better and Eco friendly.
I love this wax. It takes a little more patience when removing but it's real nice. Smells good, not synthetic. I recommend scraping it pretty quickly as soon as it gets cloudy. I've used a plastic blade no problems, metal is for P-Tex not wax. Due to it's thick nature it also makes a great storage wax when you aren't sending em.
Waxed all of my boards, smells good, had no trouble getting the wax off after letting it sit like others said, maybe I didnt have it on as long

Bought it just to try something different and help the earth a little bit, have yet to get my board out on the snow with it other than my older snow skate which rode good at my local hill
I love the green intent but this stuff is nasty. It goees on just like regular wax but it goes off super hard and is really hard to scrape off. It gets so hard that it does not come off like regular wax in nice curly slices, it chips and cracks. It took hours to scape it off with a metal scaper (plastic will not cut this stuff).
Confused, did one ball actualy tried this crap before bringing it to market?
Now I have to use a solvent to get it off, not so green after all.
No stars....
This stuff is easy to apply and doesn't take much to cover your board. I bought it mostly cuz it's good for mother earth.. now only if they made the plastic packaging bio-degradable that'd be what's up.
OBJ knows whats up with wax, smells good, easy to use, easy to scrape, and makes you faster than your friends
The wax is good if you want to do your part to go green. i guess every little bit helps, right? Any way, as mentioned this wax is a pain to scrape off if you leave it cool. But if you follow the directions, its no sweat. nice and slick. The only soy product i buy.
Yea, you get a little bit of brownie points for being eco.

Wax works well in most conditions so far, although I have to admit I'm not extremely experienced with wax.

One problem is that it can be a HUGE pain in the ass scraping the stuff if you leave it on for too long. As I recall, the longer you leave the wax on the better it is, so this gets kinda annoying.

Probably a great idea for storage wax.
yea it saves the earth or something, what ever.. just make sure you scrape it while its still warm or you will be scraping for a long time.

i like regular wax that you can let cool off then scrape.. when i used this it rode like a champ.. just takes a little more effort.
This wax is so smooth and helps save the planet. What more could you ask for?