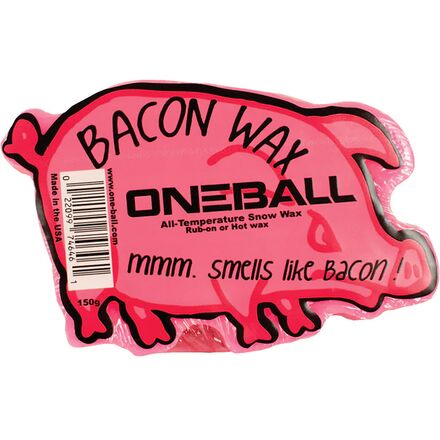 Colors
Description
Safe for vegans.
Your deadbeat roommate will get out of bed when it's his turn to drive to the hill if you fire up the One Ball Jay Bacon Pig Wax in the morning. This hydrocarbon and natural wax blend smells like glorious bacon cooking on the stovetop when you're ironing the wax into your board. Do you best not to eat it as it will likely cause severe indigestion and death. One Ball Jay made the Bacon wax for all temperatures so you don't have to think too hard right after waking up.
MMMM Bacon!
Familiarity:

I've used it several times
Smells like you just lit up a bacon candle! The first few days skiing after waxing, my skis still smelt bacony. Makes your skis fast too!
Can't complain about the wax its self. But sad it doesn't smell like bacon. :(
Can't go wrong with anything related to bacon
Smells good, tastes bad, works great. Great wax keeps your waxing spot smelling like heaven while making your board go faster too. Plus its great for both of the recommended uses in the tech specs.
it might smell like bacon.. but it dont taste like it.. thats for damn sure..
Doesn't smell like bacon.
Doesn't smell at all like bacon. In fact, it smells like melting plastic--worse than just cheap, no-name wax. As a wax, it worked OK, but as a good smelling wax, it fails.
Everyone thought i was cooking breakfast ! No, just waxing my skis ! Who has time for breakfast ?
The wax itself says its a rub-on OR iron...
The wax itself says its a rub-on OR iron on. Does this wax perform as well as a strictly iron on or does it rub off faster like a rub-on?
It will do better as an iron on wax because it will get directly into the pores of the board.
all wax that is iron on can also be rub on. its just always more effective to use the hot iron. so yes it will rub of faster as a rub on