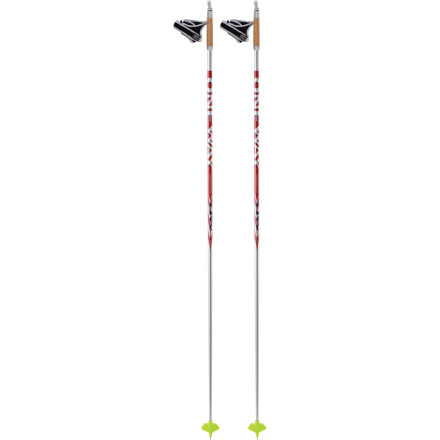 With the One Way Diamond 930 Cross Country Ski Pole in the palm of your hand you'll glide around the groomed track with ease. The 930's 30% diamond carbon shaft has a low swing weight so you can swiftly maneuver up the hill, and you'll enjoy its lightweight feel during a long workout around the track. A soft EVA (foam) grip lets you grasp the upper with ease during subzero temps and wet conditions.
What do you think about this product?
Have questions about this product?
Not for Olympic games but cheap and light. Good pole.
Hey, $65 and they're that light? Great news. Just like the previous poster said, I've seen high schoolers break quite a few of them. I think you grow out of that though, cause I haven't broken a pole since those days. Anyway, he good thing is is that you won't be replacing a blackfeather at $279! If your just getting into skiing, grab these. Don't settle for those junky aluminum ones that with the slightest off axis pressure snap like a twig. Get these. And if your looking to upgrade, an easy way is right here! The strap is very easy to adjust, and you can get different sizes at your local ski shop.
One Way makes a decent pole
Light and cheap. That's the two words that I most often use to describe these. They're not the most robust poles in the world- I know many highschoolers who have broke multiple pairs in a season- but they are light and fast. I personally use them for racing and training. At $65 a pair (and I got mine for less on sale in the offseason) they are a great bargin for the features you get. The grip is top notch, and the baskets are good too. You can ski all day, every day, in them and then use them to race too. If you're looking for an upgrade from your heavy, clunky aluminum poles, these are a great way to see what the fuss is all about. Although they're not world cup light, or even close, they are more than adequate for the average citizen or junior racer.