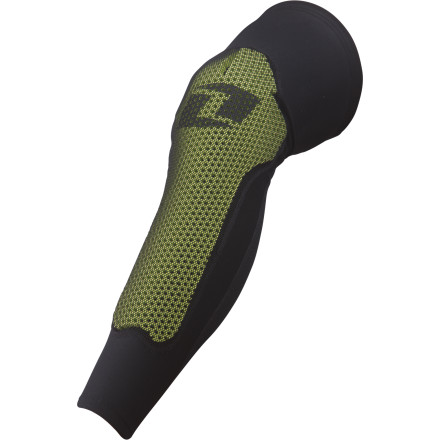 Community Images
From a slipped pedal to a digger, the One Industries Knee/Shine Guard puts EVA foam between you and potential pain. But protection is only one of the Exo's benefits. It also encourages blood flow and muscle support.
The Exo's stretch mesh construction gives it compressive properties. This reduces muscle vibration and, as mentioned above, helps with blood flow for reduced fatigue and quicker recovery. The mesh is highly breathable, as is the perforated foam, and it wicks persperation to keep you cool and dry.
The Exo has a wide elastic band and silicon grippers to prevent it from migrating while pedaling. The One Industries Exo Knee/Shin Guard comes in sizes Small through X-Large.
I was surprised by the quality of these shin guards. The Eva foam is solid and the Exo stretch mesh really feels well built. I thought the XL would be big enough but being 6'4'' I am not surprised that I am stuck once again in the XXL range. Wish I could of had a chance to get these out on the trail but once I tried them on I could tell it wasn't going to happen. I'm around 17" so a little longer than a 10" shin the XL were a little too short as well for my liking cause we all know what its like to tear your shin up with your peddles. Hopefully I will find a more fitting pair in the future but I would definitely recommend these to anyone who's smaller than me cause they felt great!
Hello All,



Here is a visible size chart that has some pictures to help you size up these pads. I hope this helps in your purchase and sizing of the One Industries Exo Knee/Shin Guard.
Excellent Trail Knee Pads
Familiarity:

I've put it through the wringer
These pads are perfect for trail riding. They breath well, conform to my knees well, and have the right amount of protection for a slipped pedal or tipping over on rocks and roots. I certainly wouldn't use them for downhill riding, but that isn't their intended purpose. They have also held up for an entire summer of riding. My shins and knees do not look nearly as nasty as they did when I wasn't wearing pads. I will definitely buy them again.
Lightweight EXO protection!