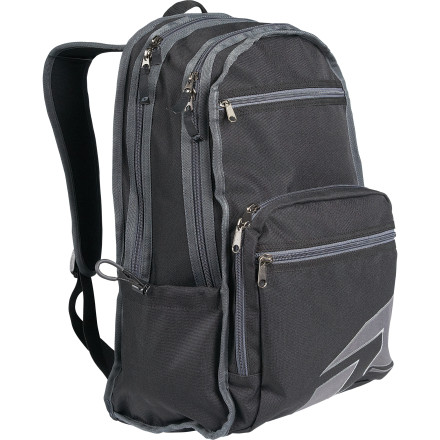 There are all kinds of fancy ways to get your gear and your laptop from Point A to Point B. There are sling-style messenger bags that really provide more style than utility. They look great while they bang around behind you as you pedal. Then there are roller bags that look more at home in an airport than on the way to class. Those things really just slow you down, and they're completely useless if you're on a bike. You don't need all those gimmicks. What ever happened to simple backpacks that just make it easier to carry your stuff? The One Industries Derby Backpack is just such an animal. No silly colors, wheels, or fancy gimmicks–just a couple large compartments, a few small ones, and a simple, clean design.

Simplicity is what the One Industries Derby Backpack is all about. The large main and secondary compartments open wide with big wraparound zippers to make it easy to access your stuff. These are complemented by three smaller organizational pockets–all zippered for security. On each side, the good folks at One Industries put a cinch-closure water-bottle pocket. The tough polyester shell fabric will provide years of faithful service and there's plenty of space on the large monotone panels to get artistic if the mood strikes you.

The Derby may be basic, but One Industries knew that your laptop is anything but, and should be treated accordingly. The Derby's laptop compartment is fleece-lined to keep any cosmetic damage from being inflicted on your expensive electronics. To prevent more costly damage, One's designers gave the laptop compartment a neoprene suspension system.

The Derby proudly sports an oversized One Industries logo on the front. To those who know you and even those who don't, it will be clear that you ride, even if you aren't on your bike. One Industries used durable metal zipper pulls on all the zippers to make sure you don't have any unfortunate surprises on your way, and nylon grabs make them easier to use. Padded, adjustable shoulder straps make the Derby comfortable to carry, even if you have it loaded down with books, gear, a change of clothes, and a few delicious frothy beverages.

The One Industries Derby Backpack comes in one size and is available in Royal Blue, Black, and White with a Multi-Colored print.