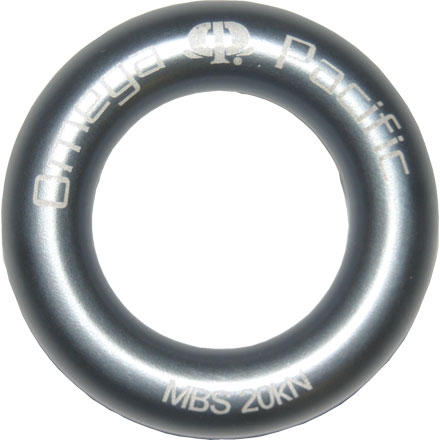 Community Images
Description
Make rappelling safer and easier.
The Omega Pacific Rappel Ring packs an impressive 20kN rating to give you confidence on rappels, and it also reduces friction to make it easier to pull your rope. Using the Omega Pacific Rappel Ring reduces wear-and-tear that destroys fixed gear, and it serves in the place of a carabiner when you're building an anchor.

Solid. Light. Nuff Said.
Familiarity:

I've used it once or twice and have initial impressions
I really can't think of any way to improve upon this product: the rings are very light, yet made of solid aluminum for better safety. I plan to use these primarily for rappel anchors but may also experiment with some primitive slackline setups.
These rings made life easier when setting my hammock up. they held in place and very strong for such a light weight piece of equipment.
Nothing more nothing less
solid not hollow
Familiarity:

I've used it several times
Not a whole lot to say since it's just a rap ring. It works just like other rap rings except that the aluminum is solid all the way through. Great for building quick anchors and takes away the concern of wearing to a hollow middle. I keep a few in my canyoneering gear.

Just what I needed!
Familiarity:

I've used it once or twice and have initial impressions
I have never owned a Hammock before and did not know that these rings where available. But now I know that I can trust my hammock to stay off of the ground all night long. Keep up the good work and thank you for the fast service. :o))
Nice rings!!
Familiarity:

I've used it once or twice and have initial impressions
Great rings. Very happy with my purchase!!
Pretty cool
Familiarity:

I've used it once or twice and have initial impressions
My husband and I are building up our first climbing set up, and two of these Omega Rappel rings made the cut. They are durable, lightweight, and a great price!
Works very well, lightweight
A great option for climbers/canyoneers
Gender:

Male

Familiarity:

I've put it through the wringer
I don't use these for my climbing ventures personally , but they are a vital part of my canyoneering gear. As many of the reviews state, these can be used to build a retrievable anchor. This way the canyon looks untouched and you don't loose any of your gear. During my trip to Neon canyon last week I was sure to practice my retrievable anchor in areas where I could climb up in the case it got stuck. I think this is good practice so that you can recognize what types of features will snag on your webbing or catch a ring so you cant pull your anchor. These also can be used in a rappel in which retrieving it is not an option, but that's just not as much fun!
I just reacently bought this and i use it for my new Hennessy hammock deluxe asym and it makes a hell of a hammock a whole lot better
Hey Jacob,



This rappel ring is made of 11mm Aircraft grade aluminum tubing stock and has a 1.25 inner diameter
saved my carabiners!
Familiarity:

I've used it several times
used these for the first time in Moab and they were a life saver with the sandy ropes which always wear down my carabiners when making a sport anchor on my climbs. after multiple climbs, these have shown much less wear then the carabiners that had the same rope run through them.
Good Rap Ring
Familiarity:

I've used it several times
Cheap. Light. Cheap. With some tubular webbing these are a great leavers. Be careful reusing the leavers you pick up. Always inspect them. Though lighter, the aluminum ones are much more prone to wear than the steels. The sand and grit in your rope can leave flat spots on the aluminum ring. Backcountry doesn't carry steel rap rings though.
You will need to get down...
Familiarity:

I've used it once or twice and have initial impressions
If you liked it you should put a ring on it...Essential in trad. pick up a few incase you cant get them back. Highly recommend.
Been using a pair of these to rig a 3:1 primitive slackline set up. They do their job. can't beat the price.
I have 3 of these for my slackline kit and sport rack. My scale reads 32.6g which = 1.15oz.; 32.8g =1.16oz.ish; 32.9g =1.16oz. fairly consistent weight.
Nice to have all the time
These simple rappel rings are critical for ice or trad climbing. Whereas a sport climb will typically (maintained sport routes, at least) have a rap station available, trad and especially ice climbing routes won't always have a fixed station available. Or if there is, its integrity could be suspect. Carrying a ring or two, especially on a big trip to an unknown area leaves me with the confidence that I can get home safely with only a small financial sacrifice. Carry a ring and some webbing or cordelette and you're rapping off a tree, horn or whatever is secure.

The aluminum is great for a few rappels, but it's not an appropriate permanent fixture and won't last long for top roping - so don't.
These ring works very well in different situations i`ve used it to rapel ( not as a device) and right now i used a lot to rig my slack line. good price and many uses.