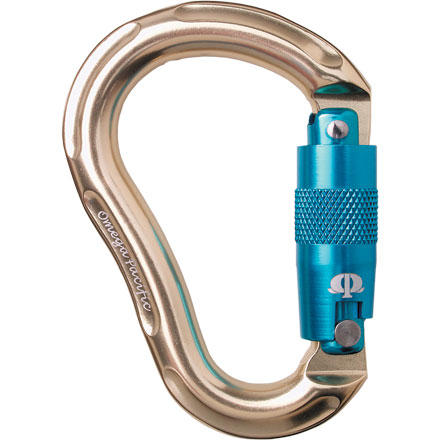 The Omega Pacific Jake Jr Carabiner's offset-gate design creates a wide 21mm opening while maintaining a compact size. This 'biner is ideal for those who want a smaller belay tool but don't want to give up a nice large basket. Omega Pacific gave the Jake Jr Carabiner a simple, smooth locking gate to keep it going strong season after season.
Heavy, but nice locker
Familiarity:

I've put it through the wringer
My first locking carabiner was a Jake, and it has been good to me since I got it. the Jake Jr is also good - the shape is the best I've had for and HMS style locker.

The one warning is that you should double check that it's locked - the spring loaded twist-gate can catch if you just let go, and it won't close all the way.
I use these on my mountaineering harness for my texas prusiks. I like the quick-lok system because it can be operated one handed, with gloves on. I think overall its a really solid locking carabiner. Maybe not the most versatile locker but for particular applications I think its great. I also have one on my PFD.
I'm partial to the auto locking biner type, but I also like a smaller compact size. This one fills both criteria for me!
Awesome Locking Biner!
Familiarity:

I've put it through the wringer
If you are looking for a smaller locking biner the Jake Jr. is the one for you! I have the auto-locking version of this and I love it. When I first tried it out I noticed that the gate doesn't open straight in like normal, it actually swings open at an angle so that when the gate is fully opened it doesnt hit the spine of the biner, and can actually swing open further, allowing for a wider opening and easier clipping and unclipping, even though it has a smaller overall size of the biner. This thing is awesome, definitely check it out.
Do you have little hands? Do you have a hard time one hand opening other quick lock biners, but still want a wide gate and HMS shape? Then this is the biner for you! The only down side is that unlike it's big brother Jake it does not come in key lock gate style. Not that hook and pin are unsafe or anything, they just have a higher chance of catching on stuff. It is still a great biner with a great ergonomic shape and handling.
Offset gate is cool idea; needs keylock gate
I like this biner, though it's no longer my primary belay biner. The offset gate is a cool and innovative idea, though in reality, I have never actually needed the extra clearance. But it certainly doesn't hurt, and I'm sure there are situations that I haven't experienced where the extra clearance would be a godsend. I would've given this carabiner a 5 star rating if it had a keylock gate (like the ones found on many Petzl and BD biners).
extremely easy to use, good size for multiple device. little too big to use with a grigri.