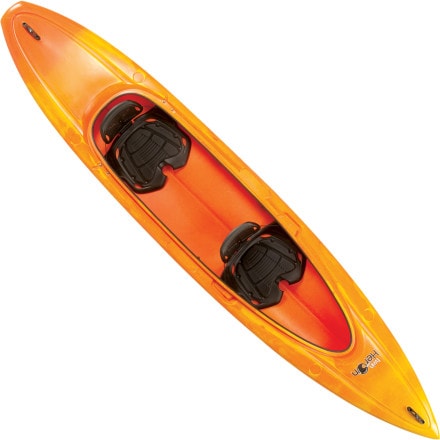 Description
Versatility defines this tandem boat.
Grab a friend and paddle the Old Town Twin Heron Kayak out onto the lake, or remove the front seat and load up your camping gear or dog. Few tandem kayaks are friendly to the solo paddler, but the Twin Heron is the exception. Enjoy room to breathe in the cockpit, comfortable seats, and plenty of stability that'll instill confidence in the most nervous novice.
Comfort Flex seating is padded for comfort, channeled to help drain water, and adjustable so you can achieve the perfect fit
Auto Trim hull shape helps a solo paddler keep the bow from slapping in waves and wandering on flat water
Front seat is removable to make room for storage or a dog if you're paddling this boat solo
Adjustable Glide Track footbrace system gives you a comfortable place to rest your feet in the cockpit
Bow and stern carry handles give you something to hold on to when you're loading and unloading from the water
Share your thoughts
What do you think of the
Old Town
Twin Heron Kayak
? Share a...
I'm not familiar with kayaking and this...
Member since
Posted on
I'm not familiar with kayaking and this looks like a great kayak to begin my journey...with my dog. It says that the rudder is sold separately....is the ruder required?
Member since
Best Answer
Responded on
Hey Kerri,

This kayak is a really good boat for single person touring, k9 adventures or two person exploring. If you are just getting into kayaking I agree that this is a good spot to start, but its not rudder ready. All a rudder is going to do is make it easier to travel a straight line, which with enough practice you could do pretty easily without a rudder. I say go without and learn the skills first and if you decide later in life to go with a rudder it will be an aid rather than a necessity.
Member since
Responded on
If your dog is small, you might consider a single man kayak.

I just picked up a kayak myself, and I will say that seeing them in person goes a long way to helping decide which one.

If you are planning on going any distance, you might consider a touring kayak (whereas this one really is a recreational kayak..)