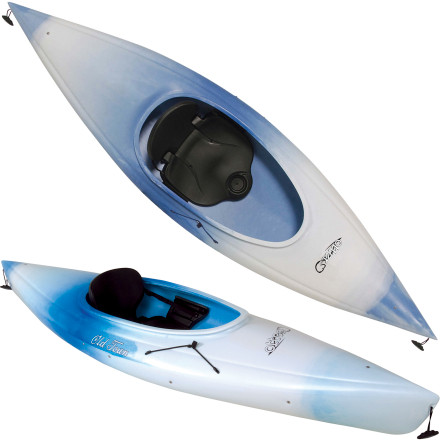 Detail Images

Community Images
It'd be nice to have a kayak that you and the kids can use on the ocean and lake, but you also need to save some funds for the whole getting-to-the-water part. Welcome to the Old Town Otter XT Kayak. It's easy to throw this lightweight kayak on top of your car, and the stable design makes for fun paddling whether you're a beginner, inner-ear challenged, or a seasoned boater. Adjust the high-back seat and move the foot pegs to the right length for you or junior.
Unanswered Question
My boyfriend has an otter plus kayak. for...
My boyfriend has an otter plus kayak. for christmas i want to get him a spray skirt. however, i dont know what sise i need to get...i need the depth and the tunnel. please help? :S
Can Otter Kayaks be used safely in the...
Can Otter Kayaks be used safely in the ocean?
Depends on how calm the water is. I would say no if there were lots of waves that have the potential to crash over you and swamp the interior of your boat. If these were the conditions you had in mind, I'd say go for something that Ocean Kayak makes (sit-on-top boat). But if you are paddling in a calm bay that is a lot like a lake, then I'd say yes.
Ive used it in the surf and it is pretty hard so but the waves were 4-6 feet tall. In a bay it was fine just hard against the currents. Over all if you want to go in the ocean look for a sit on top and longer kayak. I'm going fishing with two of the in the gulf so I will tell y'all how it goes.
I know the otter is great on the local lakes here in Pennsylvania and it is not made for big white water, but I had to give it a try. I took it out on the Stoneycreek river a class III and IV rapid river and it did great. Not sure how long it would last under those conditions. It took a beating, lots of scraps and scratches. But it was a blast.
Unanswered Question
Will it fit someone 6'5" & slim?
Will it fit someone 6'5" & slim?
Unanswered Question
Comfortable for 6'2", but I'm 6'5" & slim,...
Comfortable for 6'2", but I'm 6'5" & slim, will I fit?
Fun great kayak for the price
This is a steady kayak when using the adjustable foot pegs. I was so excited to use the kayak that I forgot about the pegs and the kayak was wobbly, but once I used the foot pegs there was no problem. I am 6'feet tall and fit just fine with plenty of leg room. The kayak does have styrofoam in the front and if I remember correctly the back as well for stability. The adjustable back rest is nice and provides good support. So far I have only used this on a high fast river with no rapids.
does this come with a paddle? car carrier?...
does this come with a paddle? car carrier? any extra's
Nope, it is just the kayak. The paddle and car carrier have to be bought seperately.
Unanswered Question
I am looking for a kayak that can handle...
I am looking for a kayak that can handle both river and ocean (light chop near shore.) I have used an Otter on the river and loved it, anyone have any ocean experience?
I have had my Otter XT now for 5 years. I absolutely love it! I have NEVER tipped it over, as it is extremely stable. Friends who have never been kayaking in their lives have used it, and been amazed at how easy it is to maneuver. I have taken it on rivers, streams, and lakes, in still and fairly choppy waters, and it has never let me down. It can go almost anywhere, and works even in extremely shallow water, and narrow streams. The foot pegs are fully adjustable, and there is quite a bit of "carry room" behind the seat and (since I am only 5' 3") in the front part as well.
How many feet long is this kayak????
How many feet long is this kayak????
It is 9 and a half feet long, and weighs 39 pounds.
Is this kayak comfortable to sit in? Is...
Is this kayak comfortable to sit in? Is there foot rests under the front where your legs would rest? I have never bought a kayak but looking to so i liked what everyone had to say already about this kayak, so this was my only question. Thanks
Best Answer
Hi There,

This kayak is comfortable. If you have a pfd that is really thick on the back, it can get tiring after a while. There are adjustable foot braces where your feet will rest. Overall, this is a great kayak for the money.
I have owned this kayak model for 3 yrs. I have been merciless with it and it still floats.... I have completely worn out a set of tie-downs and foam blocks though!

I am a very small person with a very compact car yet my kayak (Rubber Ducky) is easy to tote anywhere I want to go. I can put in where others can't and this lightweight craft will get into very shallow waters with ease.

I have been in moderate rapids as well as calm water but I wouldn't use this model for whitewater. It is a great all around recreational and fishing kayak. You have room for your tackle box and lunch or whatever. I am also thinking of a camping/kayak trip this Summer.

I am purchasing another Otter for my daughter-in-law who fell in love with mine. You just can't beat the quality and features of Old Town kayaks for the price.
I bought my first Old Town Otter at the Old Town Outlet in 1997. The Otters track extremely well, even in wind, much better than other kayaks of their size class and better than longer, more expensive kayaks that I've paddled. One person can easily load an Otter onto a car rack. They handled well in a moderate current (NW Iowa, Raccoon River), on lakes, and on tidal creeks. At 9 feet 6 inches and about four inch draft, you can turn around on tidal creeks and paddle where no other boat can go at low tide! It's not a boat for an Eskimo roll--large, loose cockpit is comfortable on summer days, but you'll do a wet exit if you turn over. The kayak is hard to flip; I did it once deliberately (checking out the kayak) and once in a swift current trying to rescue another kayak. (I should have beached my boat and admitted I was going to get wet.) You can keep warm under a spray skirt in colder weather. The price is right, too!
I love the Old Town Otter XT kayak!
We own two Old Town Otter XT Kayaks and just love them. We were new to kayaking when we bought them and wanted something that was easy to handle and something that wouldn't tip over very easily. We love that they are light enough for us to carry, and really love the big opening as we don't feel trapped in the kayak. Also my 5 year old daughter has plenty of room to ride in my lap. Simple to maneuver and they move plenty fast through quiet waters. We have even used them on a few rapids and they did really well. Foot pegs are easy to adjust, and there is plenty of storage behind the seat. I was looking for an inexpensive kayak to have fun with...and the otter xt is perfect!
what colors are available?
what colors are available?
Just the orange in the pictures. Or "sunrise" to be specific.
It comes in blue (cloud) as well. I own both colors.
I had read that the otter xt was a kayak...
I had read that the otter xt was a kayak for kids, but in another review a man who was 6'2" loved it. Is it good for any size?
The scoop with the Otter kayaks is that they are very stable and easy to maneuver. Combine that with their light weight and you have a great boat for anyone in the family.
Is the kayak stable?If a boat came past...
Is the kayak stable?If a boat came past are you likely to tip over?
Not if you have good balance.
Best Answer
The Otter is very stable. Point it into the wake, and you'll be fine.