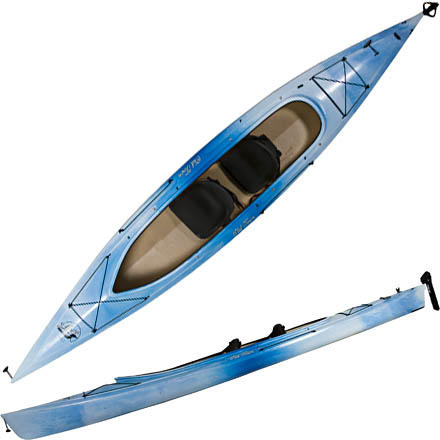 What do you think about this product?
Have questions about this product?
I bought this kayak about 3 years ago and it has been great in the water. I travel solo but take my black lab with me. The open cockpit is good for us but at times when I'm on my own I like the ability to paddle from the center...an option not available in a two hole boat.

It's a bit of a scow with 1 paddler and a wet Labrador but not too bad of a sacrifice to have pooch along. 2 people paddling is fine. It's no race boat but is good as an all round boat.

I find it is fine for 2 people to load it on the top of my compact SUZ but is a struggle for one.

Here's a question...does anyone know of a single kayak with an oversized hole that would fit a pooch in front of the paddler? If you know of one, I'd trade this boat in a second. Not that this is a bad boat. I'd just like something smaller/lighter that can take my dog and I.
Hello, I have the Loon 160T Kayak, but...
Hello,



I have the Loon 160T Kayak, but without a rudder. Can anyone help me to find this rudder? Or maybe the rudder's from other models will fit on the Loon 160T. Any information would be much appreciated!
Backcountry usually doesn't sell accessories or parts like that, but a quick Google search turned up this (http://oakorchardcanoe.com/detail.php?product=1062) Definitely worth shopping around, but I regret to tell you you won't find it here.
Unanswered Question
How can I repair a 3 inch hole in the...
How can I repair a 3 inch hole in the bottom of my Loon 160 T?

Paul