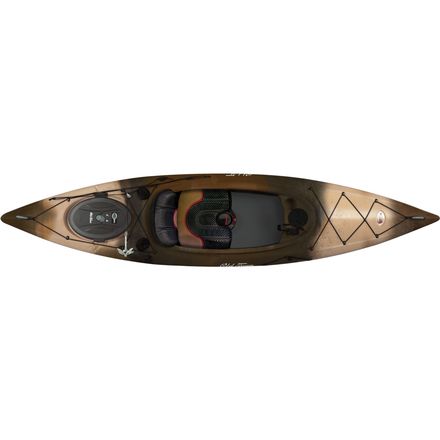 With a short ten foot length, Old Town's Dirigo 106 Angler Kayak is excellent for navigating hard-to-reach fishing holes. A Stabil-Form hull design helps you avoid wobble while fishing, despite the kayak's shorter length. The roomy cockpit features Old Town's Active Comfort System 2.0, which includes a bomber OT cushioned seat, cushy thigh pads, flush-mounted rod holders, and an anchor trolley.
Old Town also equipped the Dirigo 106 Angler Kayak with a Glide Track foot brace system and easy-to-reach adjustments. There's a secure Click Seal hatch, a bulkhead, bungees at the deck, and a glove box hatch for your valuables and electronics. The Dirigo 106 Angler Kayak also features a cannon rod holder, a cup holder, and a convenient drain plug.

Three-layer polyethylene
Stabil-Form hull design
Active Comfort System Seat 2.0
OT cushioned seat
Glide Track foot brace system
Click Seal hatch with bulkhead
Glove box hatch
Deck bungee
Cannon rod holder
Flush mounted rod holders
Anchor trolley system
Cup holder
Drain plug
What do you think about this product?
Have questions about this product?
I purchased this boat as a semi-retirement gift for myself. My original intention with this kayak was to expand the types of water I could fish, as I am a fly fisherman who normally wades. I had been doing some research and decided on an Old Town. This was based upon my past experience and exposure to their canoes, which I had always found to be of the highest quality and craftsmanship. The price at Backcountry was quite good, and since I have made many purchases in the past, I did so without any reservation. The boat arrived via ground freight, and upon unwrapping it, I immediately noticed that it was missing the flush mount rod holders, that were depicted in the photos, and also mentioned in the kayak?s description. Since it was late in the afternoon, I kept the boat, as I had a camping/ kayak vacation planned a couple of days after the delivery date. I contacted Old Town, and was assured that I had received the correct model boat, and that they would send me the mounts and installation instructions free of charge. A couple of follow up emails went unanswered, and I have not received the mounts. I know that this is more of an issue with Old Town, but I would have presumed that the boat would have been inspected prior to shipping by a Backcountry associate in order to ensure it was the correct product, and that it was in proper order. With regards to the kayak itself, it had given me many hours of pleasure. In addition to expanding my fishing locations, the kayak has become an excellent platform for wildlife photography, allowing me to get very close to normally skittish wading birds, as well as osprey nests. The overall length had given me access to small tributaries and backwater areas that a larger boat may not have. The only real performance drawback would be that the boats wants to track to the left. This may be due to my paddle length and paddling style, which I plan on addressing with a couple of lessons and a different paddle. I will continue to be a loyal and frequent Backcountry customer, but I?m not sure another Old Town product is in my future.