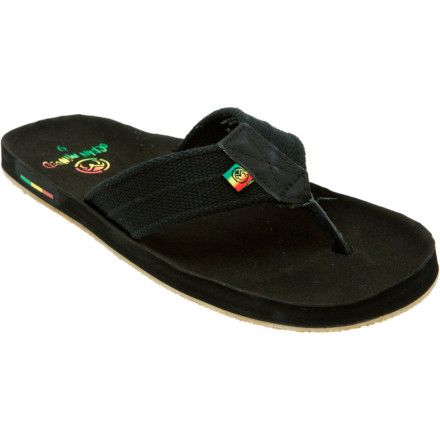 Detail Images

Videos
If the Ocean Minded Scorpion Sandal's suede footbed doesn't bring a smile to your face, then the gum-rubber and burlap outsole should do the job. Made for kicking back and enjoying life, this Ocean Minded sandal features an anatomical footbed to provide arch support and ensure plush comfort when you're strolling down the boardwalk.
Ocean Minded Scorpion Sandal - Men's
Wear'em Everyday Here in Utah
Utah is hot, so sandals are a must.

Tried on a number of other sandals from the standard, big companies (Reef, etc) and found that these had the best, contoured feeling underfoot. Feel solidly built and the toe-thong part doesn't rub your foot raw.

You'll love these sandals.
Sizing on Large Side, Super-Comfy
Super comfortable sandals.

Footbed already has wells for your toes / arch of your foot and the upper feels smooth, not synthetic like cheaper sandals.

Perfect to leave in the truck for kicking around after a day of riding the bike.

Sizing definitely on the large side IMO. Seems to be large by about half a size.
i havent worn them much but when i have, they are really confortable. best ones i have owned so far.
most comfortable pair ive had. havent worn them much but i can tell i will like them alot!
Very nice sandal. It is not a soft piece, but works.
This is my second pair of the exact version so i guess i like it!
Extremely comfortable, lasted two summers of wearing them everyday. My feet seemed to slip around in them quite a bit when they were wet because of the leather, but that seems characteristic of most all sandals I've owned. Best sandals I've had, definitely recommend them.
These are the most comfortable sandals I have ever owned. I bought my first pair about three years ago and they finally wore out recently. I wasn't able to find them locally buy luckily I found the replacements on Dongfunk.com