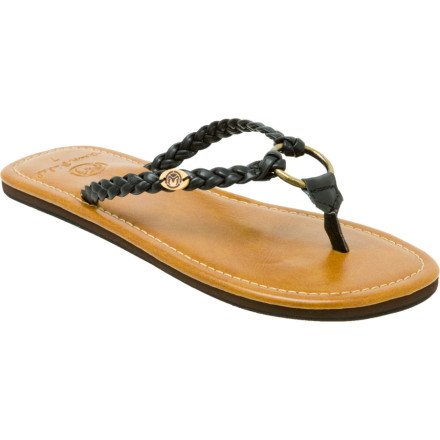 Detail Images
Ocean Minded named these women's sandals the Manhattan for a reason—they love the city (but they can hang on the beach as well.) Ocean Minded used a li'l pleather on the EVA topsole and braided strap for a street-ready look that won't get thrashed by the water. A 55%-recycled EVA footbed shows Ocean Minded eco-friendly roots
I typically wear a 6.5 or 7 so I ordered a 7. My heel was hanging off the back, the leather straps were very tight and the sole itself was very narrow. While these sandals are really cute and the sole is cushy, order a size up to ensure a great fit. The little decorative metal on top also dug into my foot but it could be because they were too small.
I have a pair in white and I'm pleased with them. They fit true to size and look great with anything summery. I did not find them hard to break in, like some sandals. Finally, I was really happy they didn't hurt the space between my big toe and first toe, which can be a concern w/ flip flops. Love these!
These sandals are cute and a little more dressy than most. I bought them for a cruise to wear to dinner. These definitely required a break in period for me. I have high arches and without the break-in, they probably would have hurt my feet. Also, I had to go up a size because these are pretty narrow.
These are not my first pair of Ocean Minded Sandals so I totally expected them to be super comfy like my others. Hell No! They are Super stiff. I wore them for like 5 minutes and had to take them off. I had red marks on the tops of my feet that hurt and I haven't worn them since.
I needed a nice white pair of sandals for a wedding and these were perfect! I read other reviews on another online shoe store, and a couple people said that the ocean minded rubbed the top of your foot raw (yikes) but mine never did. they are very cute and I wear them around for many occasions when the weather is nice.
Much more comfy than other leather sandals
I got these for a friend's wedding and ended up wearing them all weekend - so styling, and super comfortable too. I thought the braiding would end up giving me blisters, but not at all! I'm a happy camper with these shoes and will probably end up wearing them out pretty quickly!
I bought these at a surf shop in Daytona Beach, FL. Love them - my husband thinks they're sexy, too! I'm buying 2 more pair so that I have them for the next two summers - so cute - order up one size - seems to be kind of standard with sandals these days.
The foot bed runs a tiny bit on the narrow side and it takes a few wears to break in the braided strap. Otherwise they're cute and comfy!
These shoes run a bit small so I had to exchange for a size larger than normal. Great quality and super cute!