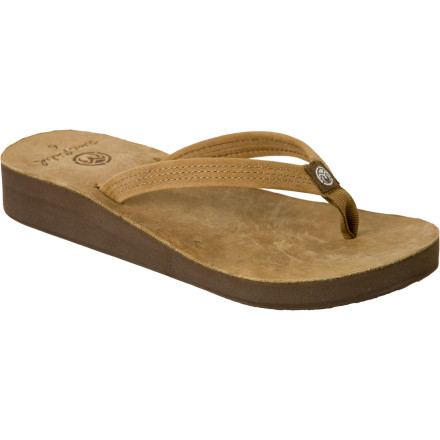 Detail Images
The Ocean Minded Women's Del Mar Sandal—leather construction, a slim silhouette, a rounded outline, a slender strap, and a bit of height? Damn, these flip-flops are hot. If the smooth leather and wedge profile don't win you over, the recycled EVA outsole will. You see, even Ocean Minded's most fashion-forward pieces have an eco-soul.
Unanswered Question
I'm a size women's 6.5, and these sandals...
I'm a size women's 6.5, and these sandals only come in a size 6 or 7. I've had this problem with flip flops before, and I've gone with a size 7 but this size turned out to be too big. Does this sandal run large or small? Is it better to go up a half size or down?
Does anyone know if this flip flop is...
Does anyone know if this flip flop is slippery when wet? I'm trying to find a flip flop that isn't slippery when wet (both the footbed and the sole) but has a slightly more sophisticated look, like the Del Mar.
No, it will not be slippery. The EVA foam will prevent this from doing so, acting like a sponge while being quick-drying when not in the water, prevent it from that factor. Plus there's tread on it- unlike those dreadful, overpriced Havaianas.
Saw these at another retail store but they didn't have the right size. Ordered these through Back Country at a much better price.
I bought a pair of Del Mars last summer and loved them because they were very comfy and they had a bit of a lift (I'm short!). A few weeks ago my husband & I were on an RV trip out west, and while in Boise, ID, we had some issue with the RV in a parking lot. I had taken off my flip flops and they were on the stairwell.
Long down the road further we stopped and I went to get out, putting on my sandals; there was only ONE! He had kicked the mate out the door and it was stranded in the parking lot back in Boise. I yelped that my flip flop was GONE and he replied, "I did see a brown flip flop under the RV in that parking lot." So I got online that night and found them here at backcountry.com; ordered them up and had them delivered to our destination in Eugene, OR. YAY!
(I kept the extra left over, just in case it happens again....)
Hot, yes... but don't let em trip you up.
I got these flips on the beach in Santa Monica last summer. I have loved them for a year now! They are everything the description says-- versatile in that they are comfortable and will make the transformation from surfing to dinner at a restaurant with ease...

But alas, right at the 1-year mark, the bottom layer of the sole has started to peel back. Result: I spontaneously trip over my own feet! NOT HOT. Can't return em because the warranty just ran out... they are just a leeetle too expensive in my opinion to justify buying another pair every year because the mfr can't figure out how to make the glue on the sole stick... and a little too inexpensive to justify having them resoled at a shoe repair shop. Harumph.