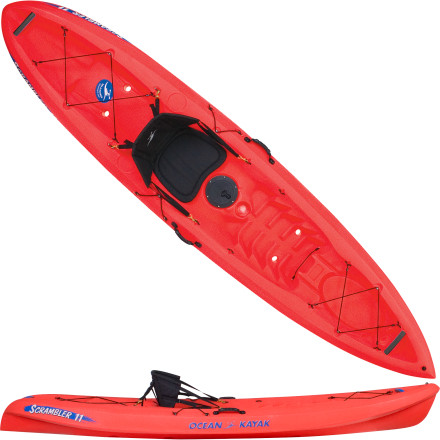 Detail Images

Community Images
Description
Surf, fish, or just paddle around the lake with Ocean Kayak's Scrambler 11 Sit-On-Top Kayak.
When the surf's up, hop in the Ocean Kayak Scrambler 11 Kayak and catch a few waves. When the water's calm, stash your tackle box in the oversized tank well and find some fish. Ocean Kayak made the Scrambler 11-foot Kayak with a comfortable, cushiony seat that can be adjusted four ways, so your back won't start complaining halfway through the day. A six-inch hatch in front of the seat stores snacks or sunscreen, and a molded-in cup holder keeps your refreshment close at hand. The Scrambler's durable linear polyethylene construction shrugs off rock hits and drags through the sand.
Share your thoughts
What do you think of the
Ocean Kayak
Scrambler 11 Kayak
? Share a...
what colors are the ocean scrambler available...
what colors are the ocean scrambler available in. I prefer either green or red?
Best Answer
Hey Mark,

According to the company website they come in yellow, green, and two tone red/orange color. Unfortunately BC is out of stock at the moment. Here is the URL:

http://www.oceankayak.com/kayaks/single_kayaks/scrambler_11/

Hope this helps
Can you buy a seat with a back that fits...
Can you buy a seat with a back that fits into the Scrambler?
Great Kayak, perfect for me.
I totally dig it. Great for going out on the bay and along the shore line. Even brought my daughter(3) out on it. She sat on the bow and loved every second. As everyone else keeps saying, upgrade the seat for long trips.
I have a small hole in my boat that is...
I have a small hole in my boat that is letting water through. I have tried patching it with epoxy and am still having trouble with leaking. What is the best way to patch a hole?
Most kayak dealers or online sites sell 2 part epoxy kits to repair minor damage. For a short term fix you can use silicone to fill the hole.
Definitely upgrade seat for longer trips
I've used this kayak for a whole summer now and would like to stress that the standard seat that comes with the kayak is supportive but not comfortable for trips over an hour. A regular trip for me would be around 5-6 hours and my butt began to feel numb after the first 45 minutes which went away after readjusting seating position. Eventually after 2 hours my legs and butt would eventually begin to fall asleep due to the lack of cushioning in the seat. I would occasionally have to swing legs over side to release pressure off my butt which was pinching my nerve...very annoying. Maybe its just my anatomical makeup but from my experience definitely upgrade to Ocean Kayak's Comfort Deluxe seat or other compatible seat that has thicker cushioning in the seat area. It is around $100, but the cost is worth it if you plan to be out on the water for more than an hour...it will make your trip a lot more comfortable and enjoyable.
Pros:
-size and weight managable for 1 person
-seat is comfortable (would recommend the deluxe seat for longer trips though)
-tracks decently
-stable (easy to reboard in deep water and can throw legs over side in siting posistion as long as your rear is somewhat centered in the kayak)
-room for add-ons (anchor, fishfinder, rod holders, etc...) and storage decks with lots of bungee cord.
-priced well for what you get.
-Well sealed hull with no large hatch openings so you dont have to worry about taking on water. But there is still a drain plug though because you can add an optional hatch opening with cover if more storage is needed.

Cons:
-I have the recycled hull material version of this model and the top of the kayak can get very hot when in full sun but cools down instantly with a splash of water.(might be different for standard hull material)
-The 6" cam lock hatch is not water tight...a little water still gets in so dont throw your cell phone or camera in there without putting them in a waterproof bag.
-No rudder add on capablity like ocean kayak's drifter model.


Recommendations:

-Recommend using a coozie for cans or bottles because drink holder is large and the can/bottle will slide around if in rougher water or boat wake. Also the cup holder can fill with water and which can warm your drink fast. But everybody likes coozies anyway.
-Rear tank well in back is long but narrow, my milk crate pre rigged with fishing gear wouldnt fit(rectangular portion of tank well measures 11.5in X 19.75in, so make sure your cooler or milk crate is equal or less than those dimensions).
-If you want a drier ride I would recommend the scupper stoppers for the holes nearest to the bow (by your feet...those holes seem to allow the most water in the cockpit).