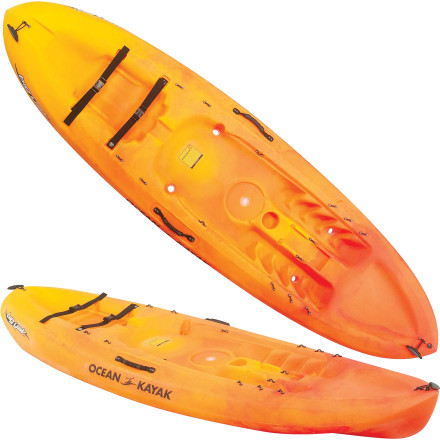 Massive width and a wide-open cockpit make the Ocean Big Yak Kayak extra friendly for all levels of paddlers to explore flat, inland waters or surf the waves just off the beach at the ocean. Anyone in your family can slide into the molded-in seat, plant feet in the foot wells, and paddle away with confidence. Sometimes simplicity just makes sense, and in this case simplicity leads to fun on the water just about anywhere.
Polyethylene hull is durable and tough enough so you can drag it repeatedly across the beach without worry
Extra width and rockered bow-to-stern profile makes this boat extremely stable as well as responsive in choppy water and waves
Open cockpit makes it easy to climb in and out of this boat and less intimidating for beginners than the classic, closed-cockpit kayak
Molded seat well and foot wells keep your butt and feet in place while you paddle in the waves
Stern tank well provides open storage and gear straps keep your gear from floating away or falling out
Molded-in cup holders hold your liquid refreshment while you paddle between beaches
Side-mounted carry handles and bow and stern handles give you something to grab while loading or unloading this boat onto your car or in and out of the water
What do you think about this product?
Have questions about this product?
Would I be able to have my four year old...
Would I be able to have my four year old granddaughter with me in this kayak??


Hey Connie,



It would definitely depend on how you and your granddaughter would fit into the sit-on-top cockpit. To give a bit of reference on how much room is in the seat, the width is 17.75 inches and the leg length comes out to be 49". I would take those dimensions and do some leg length measurements of you and your granddaughter to be sure that both of you sitting in the kayak would make for enough room.