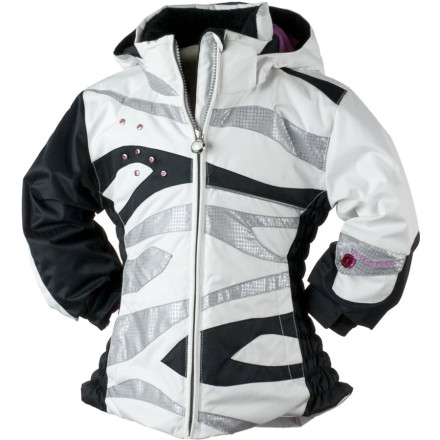 After dressing your daughter in the Obermeyer Toddler Girls' Kismet Jacket, you can't help but reach for the camera for a winter photo op. She looks utterly edible in the bright colors, eye-catching design, and jewel embellishments. And as she points out, the sparkles on her new winter jacket match the shiny costume jewelry your mother-in-law gave for the dress-up box. You know she'll be warm and dry as she heads out for her first ski lesson, and she knows she looks good. You both are happy, at least so long as you're both inside and the lesson hasn't happened yet. Gulp.
Your lady may be little, but she knows that being wet and cold is no fun. HydroBlock X waterproof, breathable tech keeps your wee one protected from snow and rain, without turning her little body into a pint-sized sauna. Thermal Zone Insulation packs the heat around her tiny torso, with less bulky insulation along the arms and in the hood. Silky smooth nylon taffeta makes getting your little princess dressed a dream—once she finally decides what she's wearing. Shaped seams and side ruching gives her little body some shape, and the fleece-lined collar and chin protector means you no longer fight about zipping the jacket all the way up.
The hood comes off when the sun comes out, and adjustable elastic cuffs give your little lady some control over her own jacket. Fun zipper pulls could keep her occupied for hours, much to the chagrin of her ski instructor. As your sweet little one starts to grow into a sweet bigger one, the I-Grow system lets you lengthen the sleeves by an additional 1.5 inches.

HydroBlock waterproof and breathable shell (10K/10K)
DuroGuard DWR coating
Permaloft insulation
I-Grow extended wear system
Hood, removable and insulated
Hook-and-loop cuff adjustments
Side ruching