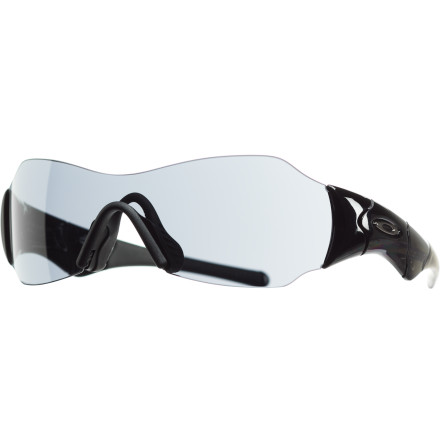 Detail Images
Great, Light, but a little small
I received sunglasses as i ve heard so many great reviews. Sunglasses really do sit very well, so they wouldn't fall off even during most intense workouts, and they are extremely flexible and light. However, i thought they would be just a little bit bigger, so i look a little funny in them. i already have several oakley pairs, but wanted something different for bike riding, and trail running. i guess i'll look for another comfy oakley pair.
Unanswered Question
Write your question here...ARE THESE RX...
Write your question here...ARE THESE RX ABLE?
i love these!!! light weigt and flexible, fits inside helmets too. great vision and don't scratch easily! and becuz its great flexibility, it fits well on my big face! lol
do the Oakley Zeros have interchangeable...
do the Oakley Zeros have interchangeable lenses?
not for these cuz they are frameless
Bought these for my 17 yr old son. He loves them and they fit him really well.
Where can I find replacement nose bomb's...
Where can I find replacement nose bomb's for these? I checked Oakley site and google'd and all I could find was a retailer in another country.
http://www.oakley.com/products/4284/17575
I love the style and the comfort, They weigh almost nothing. Great for any conditions
These are my second pair of zero's. I had a pair of the last version, and based on my love of those I bought these sight unseen.
Overall, I like the glasses very much. They have almost no weight at all. The nose piece and ear pieces hold on very well no matter how much sweat comes off your head. The lenses are Oakley clear, no distortion at all.
The only issue I have is the arms are rather thick, which is fine for style, but can impede peripheral vision a bit.
Lightweight + Great Optics
I am on my third pair of these glasses in the last three years. I lose about a pair a year and try to keep a spare pair. I love these glasses because they are so lightweight and the optics are great. I have tried other sunglasses when I have lost my Oakleys on vacation but I am too spoiled with the optics and the weight. Especially the weight.
I have a small face and these are versatile to fit anyone.
Excellent for runnin' & chillin'
I didn't realize the new Zero was sports specific until I saw some tri-athletes wear them at local race.
They ventilate well and the optics are FAR superior. I got the orange-ish lens, and works great for running and riding my bike. Not really good for sunny day driving though. I run 2 to 10 miles each day, and I can't leave home without them.
Seems like there's more distance between eyes and lens than M-Frame. No more fogging like M-Frame.
Highly recommended for endurance sports!!
Backcountry.com was great as always!! I returned the first pair becuase the lens were dirty and scratched. No hassle. Got new pairs the next week.
These Sunglasses survived the Gobi Desert
These Oakley glasses are the best ventilated pair I've ever had. Ideal for warm temperatures and they simply don't fog. The lenses continue to be clear, bright and durable despite months of heavy use.
These sunglasses were just what I was looking for. I am a female with a small face and they fit great. They are mirrored and block most of the light. Yet they also help to clarify what you're looking at. Highly recommend.