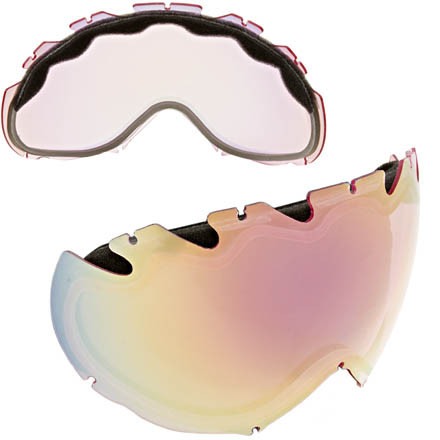 Detail Images

Community Images
when are you going to get more iridium...
when are you going to get more iridium lenses in stock? I need one!
The Wisdom has been axed by Oakley, These are no longer available.
The inside of my lenses look permanently...
The inside of my lenses look permanently smudged and ive tried everything to clean them but no look getting them clear... What can i do?
I had the same problem. If you rubbed the inside of your lense white it was wet you have ruined them. I just did this yesterday to my Iridium lenses. Sad to say a SNOW goggle that is used in a wet environment has lenses that will not hold up to moisture. Sound like we both need to give Oakley some more cash to replace the same bad lense.
Unanswered Question
The Oakley Wisdom replacement lens that...
The Oakley Wisdom replacement lens that is listed does not say whether it is VR28 or not can you help with that? My son wants VR28 Black Iridium.
, ☃bcs_badge_alumni_label☃
Correct, Wisdoms are no more. They have pretty much been replaced by the Crowbars.
Own both the Titanium Clear and Fire Iridium lenses. Haven't gotten the chance to use the Fire's yet but the Titanium clear are pretty good for overcast days. Would've like some HI or some else rather than the Clear one but it came with the goggles when I bought them.

Changing lenses is a real pain in the ass. Would not recommend doing them while on the mountain. However, if you change them frequently, you'll probably get the hang on swapping them out pretty quickly. Make sure you have your goggle bag though.
do the oakley wisdom goggle replacement...
do the oakley wisdom goggle replacement lenses fit the shawn white goggles?
Best Answer
no you need A-frame replacment lenses for those

copy paste OAK0118 into the search bar and hit enter to be taken directly to them
Will Never Buy Anything But Oakley Ever Again
I bought my Oakley Wisdom goggles a few years ago and they were always perfect. - Never once fogged up. - But I scratched them.. - and when looking for a replacement set of goggles I went for style over substance and bought a set of Anon goggles. - Those things ruined a 4ft powder day at Mt.Baker... - they fogged up as soon as I got there and never cleared up. - I spent most of the day skiing in heavy snow with no goggles on. - The first thing I did when I got home was to buy a replacement lens for my Oakleys - and they are perfect again.
we all know the black iriduim works good in bright sun, thats self evident, but how does it look???? im crazy about completley reflective lenses and this is the next best thing besides a fire lens. in the sun it looks silver and there is just a tiny bit of transparency
I have Oakley Ducati goggles. Do you sell...
I have Oakley Ducati goggles. Do you sell a replacement lens for them?Thanks. Michael.
Once you get oakley goggles it's over. Nothing else will do. I've been upgrading to the polarized lenses and I'm not disappointed. If you don't have them, get'em
I got a pair of Wisdom Goggled with the basic Persimmon lens and loved them all except for the fact that the original lens wasn't reflective (Iridium coated) so i ordered up a pair of the Gold Iridium's and love em, they are awesome in mid to high light conditions and the Iridium helps a ton with glare. (and they look a heck of a lot cooler than the persimmon...) all in all a great upgrade!
These are great for bluebird days. Just that it is a real pain sometimes popping the lenses in and out. Got to have clean paws too, so the insides don't scratch. Should invest in a different pair of wisdom googles, not any with iridium because they rock you about $150, buy the non iridium and then buy these lenses separate. Plus you'll now have a back-up orange permission lens for semi cloudy days.
Does any knows if one of this choices are...
Does any knows if one of this choices are brown tint?
Black or Gold Iridium or Persimmon are your options.
these goggles and lens are wonderful. I have put my head in the snow a couple of times and they don't fog up.
I got the H.I. Persimmon lense this year as a gift and I tell you what flat light use to be the biggest pain but with this lense its like putting on night vision in the dark you can see everything!
Fire, great on bright sunny days
I have the Wisdoms in a fire lens and a persimmon lens. The fire is awesome on sunny days but in the shadows at the end of the day it is pretty hard to see well.
Persimmon, very versatile!
I have the Wisdoms in two lens colors: Fire and Persimmon. Fire looks awesome and is definitely the goggle to sport on a sunny day. However the Persimmon lens is nothing but simply amazing. They are great on any days that aren't blue bird. They amplify light at night and just flat out rock.

The switching out of the lens takes a little time to get used to. Not the easiest thing to do but once you get it, you should be okay.
exchanged black iridium for fire iridium lens
since i got the persimmon lens w/ the purchase of the wisdoms, i felt like the black iridium was too close in tint and appearance as the persimmon. i chose the fire iridium as my sunny day lens for the wisdoms as we a ton of sunny days. oakleys vent well and do a great job of shading the
eye. the main drawback is the fragility of the anti-fog coating on the inside of the lens, try to clean it while wet or fogged and you ruin the lens.
I've been past due for a pair of lenses. I feel your gear is a direct reflection of how good you rip. These lenses help me out with the "who's that guy?" crowd. Thanks and see ya soon!!