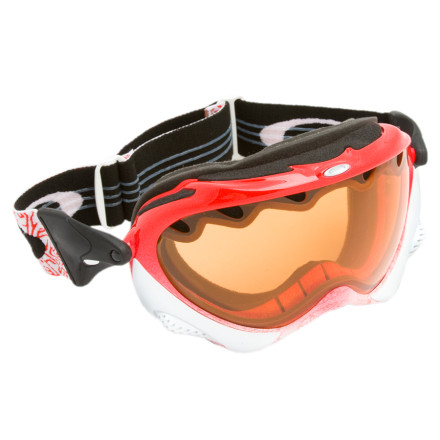 Detail Images

Community Images
I have these in a HI yellow lens for the express purpose of skiing snowy blowing days and flat light. They work very well and keep you from falling into unseen holes and depressions at high speeds and give great contrast when you need it. When you take them off- seriously, it's like someone turned the lights to low at the bar. They are like night vision goggles illuminating the way for the enlightened. The wisdom is a big frame which I also like for snowy days as you get more facial coverage. Get some.
Had these goggles for a few years now, with persimmon lenses, and they work really well. The fit is good, and they also work well with the Bern Baker helmet I wear. The persimmon lenses are also good especially for increasing contrast in cloudy or lower light conditions; but they also work ok when it is sunny. Being able to switch lenses is an exceptional feature. These won't disappoint.
Killer goggles, I got the white frame with the fire/iridium lens, and they look sick!!!!

I would buy them again if I didn't want to try out the splice so much!
are these goggles pretty big??
are these goggles pretty big??
they look alot bigger then they are.. i like them but it took a bit to get use to tehm as they arn't as wide as most..peripheral wise
Great unless you where a helmet
I used these goggles out west and they were amazing. You can see great all around unlike others where you can only see straight ahead. The only problem is that they don't fit with helmets well, especially mine (Giro G10).
Used the Wisdoms occassionally during the 08-09 season. Notice the design where the strap connects to the goggle. This plastic connector is not truly compatible with many helmets (mine is a Giro G10 MX), resulting in the dreaded gaper gap. Same problem experienced by numerous friends trying out the same model goggle with various helmets. Unforgivable design flaw in my opinion, thus the 2 star. I'd consider them adequate (3*) for helmetless riders. Nothing special - I'd never pay msrp for these. Mine are black irridium lens. They appeared mirrored in the backcountry.com photo but when I recieved them they looked see-through. When you put them on though, they do look mirrored. That is, your eyes cannot be seen.
Not Oakley's best, but still great
These are pretty good goggles, but just not as good as what other things Oakley has to offer. I suppose if you have a really big noggin like charlie brown then these might be your only option. Even with their size, they don't circulate air well, which can cause a bit of foggage, not often, but it does happen. Unless you just love the look, I would stick with some crowbars or the a-frames. Also, these do not work with most helmets, the plastic on the side sticks out too far.
these are a great goggle... for the larger noggin though so if your head is on the smaller side these babies are not for you... fogged up a little from time to time but i put this down to human error and not actually the goggle... high intensity lense black iridium... the dogs nuts in white outs and low level light days with lots of cloud... so good i bought a second pair
Great goggle and they look pretty sweet too. Provide good visibility in most conditions even in the late afternoon. A personal favourite. Fits awkwardly on my helmet though and as a result has a tendency to slip onto my nose. Excellent optics from Oakley nonetheless.
These goggles are excellent. I have a pair of blue iridium as well as high intensity and couldn't be happier. I board at 11,000 ft in Colorado so I'm always in the clouds and the high intensity pair will occasionally fog but only if it's a real dense foggy day and snowing like a mofo. On typical overcast days you can't beat the H.I. lenses. It is honestly like turning on a lightbulb. When you look at bumps and inconsistencies in the snow one side appears purple and the other yellow so you can really spot out the terrain. I don't know how Oakley does it.
The Iridiums are equally sexual when the sun's out scorching your retinas. They block the rays and still maintain a stellar performance of highlighting terrain changes.
The goggles themselves are very comfortable, but I'm not wild about the shape. Peripheral vision is excellent but I doubt they are helment compatible, even though they claim to be. I haven't tried them with one because I hate wearing a helmet, but with the wierd plastic do-dads on the strap-to-goggle mount I doubt if they would fit comfortably against a helmet edge. Also, the top side of the goggle frame is more roundish than a goggle conventionally designed to sit flush to a helmet so I doubt if they would seal tightly.
All in all, an excellent pair of gog's but if you always ride with a helmet, I'd look elsewhere.
BEST GOGGLES MADE. Period.
Couldn't ask for a better goggle
After going insane over the amount of goggle choices available, I went w/the Olive Military/Black Iridium style. Broke them in on a bright sunny day @Park City Mtn., and they worked like a charm. No fog up at all! Next day in snowy conditions @Snowbird was amazed at how clear & defined everything looked. Day 3 @Deer Valley was overcast but the lenses did the trick of keeping everything focused. Strap went perfectly over my helmet, the interior fleece padding felt great on my face, and the venting system does a wonderful job of keeping the lenses fog-free without freezing your eyeballs! I have a larger dome than most, but these fit my face perfectly, & with no gapping between them and my Giro helmet. Due to the expanded lower viewing angle there is a very minor bit of reflection if used indoors (trying them on), or staring at the sun. Although I'm a person that is bothered by the tiniest scratch on a lense,fingerprint smudge,etc..., the reflection didn't distract or bother me at all. Hope this helps narrow down the decision process for someone!
I have owned these for about a month and they really do help in flat light situations to an extent. The lens are very clear and large which is nice. I noticed the increased airflow through the top which at high speeds is a little annoying but not an issue at normal cruising speed. The first time i skied powder I noticed some dampness on the inside of the lens which I thought was weird - they were missing a foam piece that was supposed to have been glued to the lower vent. So this is a good goggle, but lousy quality control as these should never have left the factory like this. Unfortuneatly I already have used them several times so can't return for a new pair that are assembled correctly.
Worked well for snowshoeing in light snow and sub 20 degree windy conditions. They did not fog up at all in the 5 hours that I used them. They fit me well and were very comfortable. One note, not all the lens options are high intensity.
Fits Med - Lg, not XL face
I wear a 7 5/8 baseball hat, and these goggles were too narrow for my face. The padding touched the corners of my eyes, and eliminated all peripheral vision. Nice goggle, just not a good fit.
Just got back from Breck and Keystone and these goggles are awesome! They were fantastic when it was overcast, and they were a must for night skiing. I didn't realize how much they helped until I lent them to a friend for a run and could hardly read the terrain. Worse yet, he didn't want to give them back! Plus the fact that you can switch out the lens on bright day makes these the ultimate. Can't go wrong with these.

p.s. I had no problem fitting these with my helmet, although maybe that was just my particular set-up...