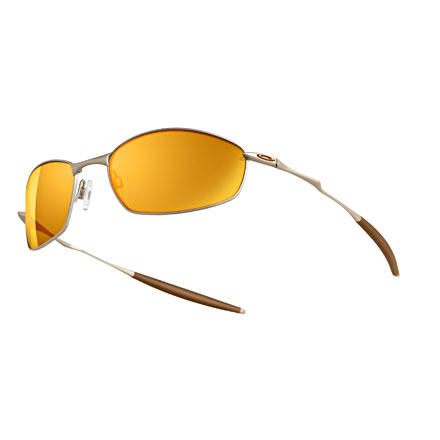 Detail Images

Videos

Community Images
The Oakley Whisker sunglasses create a 5 o'clock shadow that protects your eyes from all UVA, B, and C rays, as well as blue light. Incredible construction gives this low-profile sunglass high performance. Built with Oakley's thinnest, most flexible wire C-5 frame, the Whisker floats effortlessly atop your head. Cushioned with Unobtanium earsocks the Whisker's fit is so comfortable it should be illegal. The wrapped, raked frame geometry and curved lenses provides improved peripheral vision. The Whisker meets ANSI impact requirements and AMSO optical requirements, further proving Oakley's commitment to producing high quality eyewear.
Oakley Whisker Sunglasses
The Whiskers are a nice pair of sunglasses. I use them when I don't want to be reminded that I'm wearing anything. They are lightweight, reasonably solid and at a good price point. Recommended
ok glasses - mine were flawed though
Had problems with mine having smalls flaws in the frame. Backcountry is also a hassle to send things back

Also they refused to price match to the price on steep and cheap but didn't respond in time (before the deal expired) for me to just order another pair and return the first
Unanswered Question
hi all oakleyfanatics. i wonder if the can...
hi all oakleyfanatics. i wonder if the can make the whisker sunglasses with lenses with my prescription from my eye-doktor? have normal eyeglasses today cuse my bad eye vision with correct strength for my eyes. so can i order the whisker with my strength on as sunglasses?
somewhere i read that one frame made of c5 ithink and there it was some text that it stod with an prescription is that the same thing asan reciept from the eyedoktor+ or what does it means, my english is not the best so i hpe you understand my question. have a nice dy... Benny SWEDEN
I'm an aviation mechanic, and these glasses are just awesome. Sadly, my pair has been through the ringer over the years (dropped on the ground, left in a tool bag, exposed to severe heat, exposed to chemicals while working, etc.) Had them for a long time, but they're still great. Only one little scuff ended up on them, but I can still see clear as day through them. Don't be fooled by their slender frame, these are hardy shades.
Gold-Iridium. What can I say...probably some of the best looking pairs of sunglasses around. Maybe the picture makes the lenses look a little brighter than they are. Just loved them. Some people might want to dish out the extra money and get the polarized ones. As for me, perfectly happy with those!
Also, too bad they didn't come with a box but just a sleeve.
5/5
I bought a polarized pair in 2008 and am still amazed by these sunglasses. The Whisker is manufactured incredibly well, and are surprisingly durable despite their slim frame. They seem to form-fit your face, so they will not slip off while playing sports. They are sleek enough to be worn with formal wear (i.e. to an outdoor wedding) but tough enough to wear while biking. Overall an excellent pair of sunglasses that look great and will last longer than today's fashion trends.Buy a polarized pair if you can.
Solid, But Lenses Too Big...
The construction is solid. But, I found the surface area of the lenses to be too big- thereby making the glasses not as sleek and narrow as they appear in the photos...

This would be a perfect set of shades if the surface area of the lenses were more narrow & eliptical.

The only shades with the sleek, narrow lens shape that I've found are some old Rolling Stone ones, but the construction on those were very poor. Fossil used to make some, but now they've only been making big, wide lens shades as of late also...

Oh well... $150 down the drain.
Are these sunglasses UV protected?
Are these sunglasses UV protected?
Yep. They filter out 100% of UVA, B and C.
Great glasses, I've had a pair for the last 2/3 years. Buddy full out stepped on them and they survived pretty well. I had the repair the frames though... I use them for flying, and the lenses keep the sunlight at altitude to a reasonable level. The frames wrap around your head and stay tight enough for sports.
Unanswered Question
oakley whiskers - are the $195 priced ones...
oakley whiskers - are the $195 priced ones with the Polarized lenses?
I love these sunglasses. This is my second pair actually. They are light, comfortable and the lens size is good for blocking out most of the sun when worn closely to the face. Although they are metal framed I use these more and more then my half jackets while playing sports.
This glasses are just so elegant and stylish, my wife thinks i look great with them, even though they look sort of thinny, they really are sturdy and heavy. A word apart for the site´s service, I opted for the free shipping option for my order and I have to say that i think i got more than if i would have payed for it, got my glasses shipped the next day of my order and got them 3 days later (kudos to USPS as well)
Oakley Whisker - Gold Iridium
Love these glasses. Very comfortable and light. Look great on and fit perfect.
I like the design, but when I got them they were damaged. From what I saw the lenses are nice, but their frames seem cheap as they were damaged.
The Oakley sunglasses line up are good, but not good enough for what you are paying for them. (Maybe if the Titanium sunglasses would be worth it depending on the percent of titanium used in the frame)
I would recommend them if you had the money to spend for them other wise not.
Bought these glasses for my husband for everyday use so he doesn't have to wear his Rudy Projects. He finds them comfortable and stylish. And I think they look great!