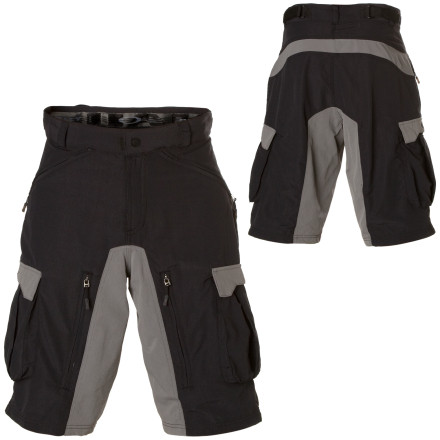 Detail Images

Community Images
most comfortable pair of shorts i have ever put on
As others have said the single snap pops open. I wear a belt now to prevent that. XXL fit my 38 inch waist. They fit baggy but don't snag on the seat or anywhere else. Looks good and the chamois is comfortable. Fabric and stitching holding up well.
Oakley has a good thing goin
I got my mtb shorts about a month ago and have used them about six times now. The shorts are really nice. The padding in the crotch is like a serta matress. The pockets are velcro so you wont lose your keys or anything you put in them. There are other good points on the shorts. The ripstop material is wicked and the modest Oakley logo is in good taste. The color is dank and overall nice shorts. The only setback is the fly is velcro not zipper.
Oakley Trail MTB Bike Short - Men's
Good shorts with a good liner, venting, and padding. Fit true to size and are comfortable and loose. One down side is the liner is not removable.
These shorts are nice. As all of the Oakly MTB shorts I have are. There is a built in liner with crotch pad. It's note removable though. Some of the other shorts have removable liners wich I prefer. Zip mesh vents in the front allow you to keep your cool while getting sick on your bike. The material is rip stop and thin so it's not too hot. The only other nit picky thing I got is I don't like the small single snap at the top of the fly. It tends to pop open wile riding. Wish it was velcro. But I just wear a belt.
Built-in liner/chamois in these shorts?
Built-in liner/chamois in these shorts?
These shorts do not have a chamois. I'm partial to Fox Racing + Sugoi products, here are my recommendations for a baggy short:http://www.backcountry.com/store/FXR0043/Fox-Racing-High-Frequency-Bike-Short-Mens.htmlhttp://www.backcountry.com/store/SUG0217/Sugoi-Hans-Short-Mens.htmlSorry but These shorts DO have a chamois. And a very good one too.
, ☃bcs_badge_alumni_label☃
Sicker in person.
I've been looking for MTB shorts forever but it's so hard to compare them without an in-hand side-by-side, so I went out and did some research for y'all. I put these next to a pair of Fox Sergeants in a bike shop, and there's literally no contest. The Oakleys use burly synthetic ripstop and nylon-weave stretch panels, Fox uses thin stretch cotton canvas. Oakley's vents and pockets are bartacked, with solid metal zips, and all the seams are double or triple-stitched. The liner inside, while not detachable, is longer and far comfier for DH than Pearl Izumi's MTB liner (which is admittedly more XC-oriented). The chamois is plush and sits a bit forward until you hike it in. I'm 5ft 10in, 165lbs with a 32in waist and a medium fits perfectly, going just below the knee when standing and at the knee sitting in the saddle. As a final note, let me say that in my opinion Oakley stuff is generally pretty cheesy, overdone, overpriced stuff, but these shorts sold me. I highly recommend them.