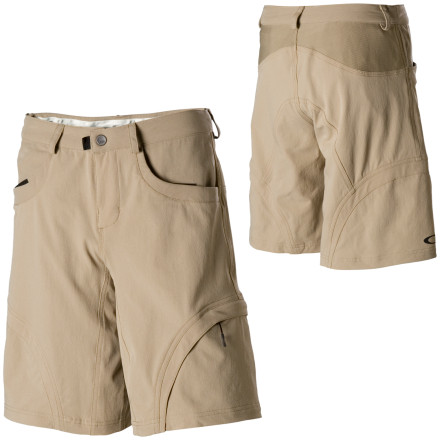 Detail Images
What do you think about this product?
Have questions about this product?
Love these shorts! They run large so order a size down. The velcro on the fly is much nicer and quicker than a plastic zipper. I like the longer length too. They're so nice I bought two pair.
I am SO disappointed in these shorts - yes, they fit great (the sizing is large, get the next size down) & they ride well. But I've just put them on for their 2nd wearing & the zipper is out. These shorts are so well made, but the zipper is one of those cheap plastic ones. When I sat down, it broke open in the middle. So I pulled it down & carrrrrefully pulled the zipper shut again. Sat down, whap, open it came. So then I took the shorts off & once again carefully pulled the zipper pull to try to get the teeth to realign. This time, the pull broke off the zipper pull! So I got out some pliers & used them to pull the zip-pull down & back up. No joy. I'm sure Backcountry will take these as a return, but that doesn't make up for not getting to ride today! I'm never buying Oakley with a zipper (I have some just pull-up kind & they rock) EVER again.
OK, this little story is testament to how killer these shorts are. I was getting ready for a great road ride (after a sweet mtb ride the day before) with friends and my girlfriend announced that she forgot her chamois, which in the road world equates to "I can't ride today". We had driven about an hour to get to this ride and no one had an extra pair of chamois- except that I had my spandex road chamois and the Oakley Trail shorts from the day before. So I gave my spandex chamois to my girlfriend (the ultimate expression of friendship!) and pulled out the Oakley Trail Mountain Short for the 72 mile road ride awaiting us. I have to admit, I would never choose to ride a 72 mile road route in the high Sierras over multiple passes in a pair of baggies but let me tell you, these shorts rocked the party. If they are comfortable for a long day in the road saddle, they are truly worthy of any mtb trail that exists. Kudos to Oakley for a great product and kudos to this site for carrying them.