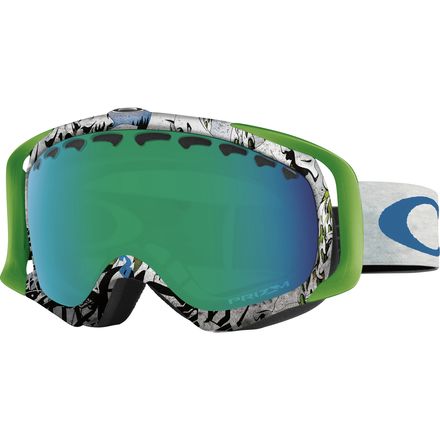 Colors

Detail Images

Videos

Community Images
Description
Crowbars already rule. Tanner is just added proof.
Tanner, T-Hall, T-Money, whatever you want to call him, the guy straight kills it, breaks himself off, and then returns to keep killing it again and again. From winning X-Games gold to dropping pillow lines at his own British Columbia cat ski resort, Retallack, this is his goggle. The Tanner Hall Signature Series Crowbar adds Tanner's own personality to an already phenomenal Oakley goggle.
Lightweight, flexible, impact-resistant O Matter polymer frame
Dual-layer anti-fog Plutonite lens with XYZ spherical optic technology
Strap outriggers for even pressure distribution with or without a helmet
Triple-layer wicking face foam for comfort
Interchangeable lenses (sold separately)
Oakley Tanner Hall Signature Crowbar
Which goggles would I recieve? The rasta...
Which goggles would I recieve? The rasta only ones in the main picture or the newer model with the tree camo in the detail pics? Thanks
Whichever ones you select from the drop down menu are the ones you will receive.
great goggles!
Gender:

Male

Familiarity:

I've put it through the wringer
Awesome goggles, i have put them to the test and they are truly awesome goggles. They never fog out on me, and have a ton of steez!
I just have a general Oakley goggle question,...
I just have a general Oakley goggle question, which is the largest (widest) goggle that oakley? I have a giant head
I believe Airbrake and crowbar are the biggest they make..
U should also look at POC Lobes, Electric EG2, Dragon APX which are ginormous....
Best Answer
I know you asked this a while ago, but to answer your question, the Oakley Canopy are truly gigantic. They do have a great field of vision, but are very varge looking.
the crowbars are the best goggles ever, and tanner hall makes them even better by adding the steeziest rasta motive. i also love the fire iridium :D
hi, are you sending it to Lithuania ? Is...
hi, are you sending it to Lithuania ? Is it replica ? what is minimum order? and is any discout for wholesellers?
Unfortunately we do not ship to Lithuania.
Amazing graphic, they look even better in real life. Had to return the first pair because the lens were scratched when I got them. It had nothing to do with backcountry, there was some sort of glue and scratches between the two lenses. The new pair is on its way, hoping for a fresh lens. Again, sick looking googles. Recommended
These goggles with fire are what I use for every high light day. As long as there is sun out, it is a solid choice to have some fire iridium in front of your retinas protecting them from the madness. Other than the usual badassery associated with Crowbars, the THalls have a wicked graphic that will grab attention all over the place.
Well I picked up a pair of these and was...
Well I picked up a pair of these and was super stoked. ...Then I cracked the interior lens on the FIRST day up. I wouldn't think that they would break that easily. (I came into a slide wrong and fell but missed the box and only hit snow.) I looked at the warranty but can't find anything besides scratched lenses aren't under warranty. What should I do? I guess I will call them but the lens seems really weak to break like that and I am quite disappointed.
Read Backcountry's return policy. They are awesome!!
i got to shred in a pair of these the other day and they were sick. The goggle fits the pace super good and hardly fogs. Tanner and oakley drew up real nice graphics for them too
I don't own the Tanner Hall model Oakley Crowbars, but I do own many pairs of crowbars. There isn't much that I don't like about these goggles. If you want the most optically correct lens on the market. If you want a goggle that will fit almost anyone's face well. If you want a goggle that is as impact resistant ans a pair of safety goggles. If you want a goggle that has great ventilation and rarely fogs. If you want a goggle that comes in many different colorways. Then there are not many reasons to not buy the crowbar!
Are the lenses on this goggle mirror? Or...
Are the lenses on this goggle mirror? Or can you see the persons eyes when they are wearing the goggles?
The fire lenses are mirrored, the persimmon lenses are not.
These things are the best goggles I have ever skied with period! Get them and you'll love em!
Do these goggles come with lenses. If so...
Do these goggles come with lenses. If so which ones?
These goggles do come with lenses. As you can see above, there are two choices of lenses that come with this goggle, fire iridium or persimmon. If you buy these goggles with one of the two lenses and you want another lens for different conditions to go with the first one, you can buy Oakley Crowbar lenses. Hope you get the crowbars cause they are great!
Does anybody have any suggestions on a...
Does anybody have any suggestions on a pair of goggles for ventilation? To me this is way more important than anything else. Any information would be great. Thanks
I have a pair of crowbars and love them...they never fog up and in my opinion the ventilation on the crowbars is great. I would recommend these goggles. Plus the T-Hall graphics is awesome on these.
Love these, got em with the fire iridium lenses, which is great for those sunny days. I also got G30 and clear lenses for overcast/night skiing. And let´s not forget that they look pretty sweet too.