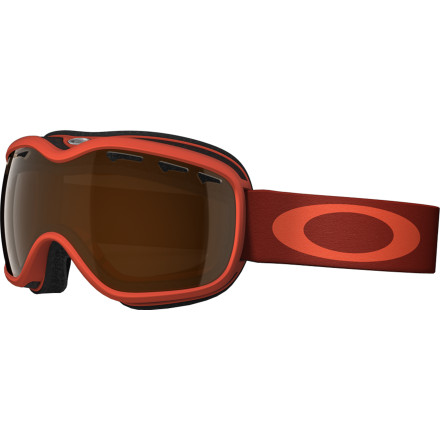 Detail Images

Videos

Community Images
The Oakley Stockholm Goggle doesn't come with a bottle of Swedish vodka, nor does it smell like herring. Rather, this smoking hot ladies-specific goggle gives women the luscious fit they've been waiting for. Oakley sealed temperature-controlled air between two layers of anti-fog-treated polycarbonate lenses to reduce the chance of fog accumulating on your inner lens. Vented air circulates through the goggle to further reduce fog, and triple-layer foam with wicking fleece might make you think you're wearing a spa mask. Total UV protection, the Stockholm's excellent impact resistance, and a wide field of vision make this Oakley goggle an intelligent choice for your one-goggle quiver.
Oakley Stockholm Goggle - Women's
Did not like fit
Familiarity:

I returned this product before using it
Wife felt these were a little too big for her face. They are a great product, the fit is sort of for skinny/ pointy large faces. They did not work under her helmet either. Not a lame product, just through I would share about the fit.
The lens on this is great, no complaints. Even if you tried to fog it up on purpose, it dissipates. The only issue is that the lens is awkwardly huge especially if you have a small face. It wouldn't be that bad but the whole design looks pretty weird.
Is the VR28 womens stockholm google...
Is the VR28 womens stockholm google polarised?
No, The VR28 is not a ploarized lens.


Sharp and comfortable....
Gender:

Female

Familiarity:

I gave it as a gift but have feedback to share
I bought these for my wife before going on a ski trip and she loves them. They're really sharp, vents well to prevent fogged up goggles, and worked well for her on a bright day on the slopes.
Happy with the goggles, they are comfortable & the black iridium lenses were good in sunny weather and when it was snowing. I think I have a "normal" sized face - not big, not small, so I think they fitted fine with my one minor complaint being that the peripheral vision wasn't quite as good as I had hoped. My husband's A-frames had better peripheral vision. All in all I was happy with these and can't go past the fantastic prices from BC.
Hi, I bought the 2009 version of these and had to buy the Asian fit version of these goggles from the Oakley site just so I could get goggles best for my facial structure. Asian's don't have a nose bridge so these goggles won't normally fit us. My old goggles had a high nose bridge which would leave a gap above my nose and air would go in fogging up my goggles as a result. THESE ARE AWESOME GOGGLES but if you're asian, buy the asian fit.
I like the size of these goggles a lot. They aren't too small, but aren't too big on my face. This is my 2nd pair of the Stockholm's, and I've been very happy with them!
Comfortable and Versatile
First, the fit is great. Typically women specific goggles are too small for my face, but not the case with the Stockholms. Secondly, wanting higher sun protection, I chose the black iridium lenses. The clarity is good as is the contrast. The Oakley website does a killer job explaining and comparing the available lenses.
Just got these bad boys! These are no joke, they will make your steezin ability go from a 4 to a 10 ! Durable, clean fresh look and still hard all at the same time! Thanks oakley!
good goggles but a few drawbacks
These goggles are comfortable, fit well, never fog up or get ice build up, keeps my face warm and look good. They do stick out from your face a bit but not over the top and i would say its probably normal.
The main drawback is that they arent shaped to fit a helmet meaning that there are gaps in between the helmet and goggles. I have to wear a beanie underneath to stop my forehead and head getting cold.

All in all they are great goggles with minor drawbacks that are easily fixed!
Unanswered Question
Just curious if the Stockholm frame is...
Just curious if the Stockholm frame is eyeglasses friendly, I know a few of oakleys frames are but I am not sure which ones. Any help would be appreciated.
Can you switch out lenses on these for...
Can you switch out lenses on these for night vs. day riding?
You bet! They're pretty simple to remove, and just require a steady hand to keep from scratching anything. You can find the replacement lenses here: http://www.backcountry.com/oakley-stockholm-goggle-replacement-lens
How's the peripheral view through these...
How's the peripheral view through these if anyone's tried them?
Pretty good, there are no restraints meaning you can see all around you. Full rounded lense and great vision!
Love this! I have a really small face (5'2" adult, skinny) and this fits perfectly! The peripheral vision on this is pretty good. I also wear this on some sunny days (not too sunny though) especially when it tends to shift between sunny/cloudy/rainy in one day. If it's really bright though, I'd recommend you get a different one (I have another one for really bright days). I bought this especially for days when it's cloudy-low light conditions. This has never fogged up so far so I'll still be wearing this this coming season :)
Well since I got these to replace a stolen pair of zeal goggles, which I loved......there has been no bad weather skiing days. I'll have to wait until next season to try them out and see how well they work. I can say that they fit really well, definately good for a womans face. They are pretty nice looking, and they fit easily under my helmet goggle tab.
What does H.I. mean and is it polarized
What does H.I. mean and is it polarized
H.I. stands for "high intensity" and refers to a coating on the lens that increases contrast and squashes glare, especially in crappy conditions. H.I. lenses have high light transmission and are meant to be worn in low light conditions. Get another lens for bright, sunny days. These are not polarized; you can find that version here: http://www.backcountry.com/oakley-stockholm-goggle-polarized
I have a small face and small nose so I...
I have a small face and small nose so I think these goggles will work for me. I ski in the North East. What color frame should I buy?
considering you have a "small face and small nose" these do come in (believe it or not) an 'asian' version, which is made specifically for asian people because their noses are flatter and smaller than other races. check it out on oakley's website and that would probably be a better fit for your face.