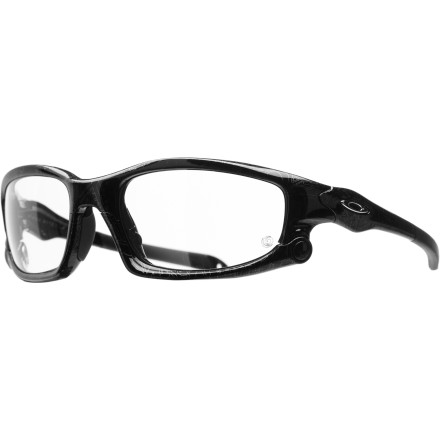 Photochromic lenses that automatically darken in harsh, bright light make sense not only on the bike, but wherever you need eye protection. This is why Oakley offers the Split Jacket with Transitions SOLFX lenses.
To make the Transitions lenses respond to UV light, photochromic molecules are applied to the surface of the lens in a dye. When there's no UV light, like when you are indoors, the molecules are naturally at an angle to one another, and the lens is at the lightest end of its shading. When UV rays hit the lens, the bond holding the molecules together breaks, turning them flat, and showing the tint.
The Split Jacket is a smaller, more rounded version of the Jawbone that fits well on smaller faces and is suitable enough for casual wear. Much like the Jawbone, the Split Jacket's calling card is the Switchlock frame that helps provide unbelievable optical clarity. The clarity is the result of Oakley's HDO optics as well as the Switchlock system that allows the Split Jacket frame to capture the lenses without flexing them. The lenses aren't snapped into place so much as they're contained in a soft liner within the frame. This system allows the frame to flex a bit without bending the lenses and distorting your view.
The frame is the usual light, sturdy, flexible O-Matter. The nosepieces and ear socks are the usual Unobtanium rubber. This stuff gets stickier the more you sweat. And if it ever wears out, the Unobtanium pieces can be replaced.
The Oakley Split Jacket Transitions SOLFX comes in two color combinations -- Infrared w/VR50 and Silver w/Clear Black Iridium lenses. VR50 is short for Violet Rust. It's a high-contrast tint, great for low and flat light. VR50 allows 50% light transmission at the light end of its spectrum and gets as dark as 15% transmission. The Black Iridium allows 66% at the light end and only 10% at the dark. Since it's a Grey tint, it shows everything true to color. The Split Jacket comes with a soft vault and a cleaning cloth/bag. Oakley doesn't include spare lenses with their Transitions eyewear as they believe the single set of lenses will work in just about all conditions.
Frame and interchangeable lens suspension system exceed ANSI Z87.1 standards for velocity and impact resistance

HDO Optics ensure undistorted clarity at all angles for high-speed activities

Hydrophobic anti-smudge coating prevents streaks and spots from sunscreen or sweat

Three-Point-Fit system holds the shades comfortably and snuggly on your face

Unobtainium stem sleeves and nose pads grip your face no matter how sweaty you get

Soft Vault case included; stows sunglasses and extra pair of lenses (sold separately)