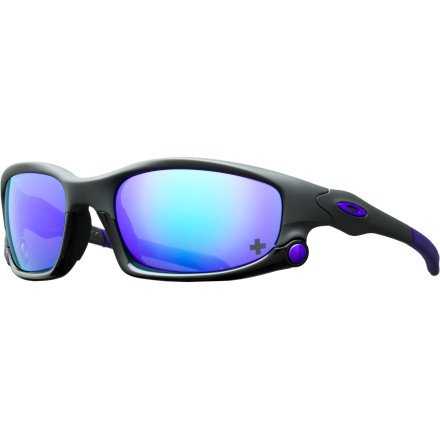 Detail Images

Videos
If you've been following Oakley products over the years, you know these sunglasses. The name is Split Jacket and they come with Iridium lenses. The Split Jacket is a smaller, more rounded version of the Jawbone. While the aesthetics are pure Oakley, the size and shape make for a less aggressive look that fits well on smaller faces and is subtle enough for casual wear.
Much like the Jawbone, the Split Jacket's calling card is the Switchlock frame that helps provide unbelievable optical clarity. The clarity is the result of Oakley's HDO optics as well as the Switchlock system that allows the Split Jacket frame to capture the lenses without flexing them. The lenses aren't snapped into place so much as they're contained in a soft liner within the frame. This system allows the frame to flex a bit without bending the lenses and distorting your view.
The frame is the usual light, sturdy, flexible O-Matter. The nosepieces and ear socks are the usual Unobtanium rubber. This stuff gets stickier the more you sweat. And if it ever wears out, the Unobtanium pieces can be replaced.

Oakley lenses meet regulatory standards, come standard with anti-water and anti-smudge coating, and UVA, UVB, UVC protection
Very DISAPPOINTED
Familiarity:

I gave it as a gift but have feedback to share


This was a case of bait & switch. The photo shown was a pair of Oakley Infinite Hero Split Jacket glasses shown with the original add. (I have a print out)...but item received IS NOT. I WAS ADVISED MID-JAN the correct item would be in. This week I was advised NOT SO. Staff promise to return calls and do not. DOES CORPORATE KNOW.....WILL ANYONE RESPOND?? I had already purchased from Oakley Vault, for 2x the price - but when got email showing great price I returned those and ordered. Now have given a gift that was WRONG....BECAUSE OF PROMISES FROM BACKCOUNTRY STAFF --- 3 DIFFERENT PEOPLE....WANT THE NAMES...???


Oakley Split Jacket Sunglasses
Fantastic for riding
Familiarity:

I've put it through the wringer
I got the split jackets after talking with a friends who is a sunglasses connoisseur about the importance of a well fitted pair of glasses. Knowing the reputation Oakley has for quality, I made the plunge and bought what are to date, the most expensive sunglasses that have ever graced my face. I have ZERO complaints about these glasses. The fit is awesome, the durability top notch, and the black frames match all of my kits.
Great sunglasses for active pursuits!
It was time to get new shades, and I needed them to cover the following bases: runnng, mountain biking, SUP. So, they had to stay put when sweating, offer really good visibility in various conditions, and had to be bombproof. Looked at a bunch, then ordered the Splitjackets from Backcountry (I like to buy stuff here because of easy returns). The glasses did not disappoint. I used them for all three activities in the first week. They stay put, offered great clarity with both sets of lenses. I feel like I get great peripheral vision in them, and they don't move no matter how hard I'm moving. Expensive? Yes. Worth it? Yes!! Now, I need to order some more lenses....



Oh, and I'm a woman with a fairly angular face, small nose bridge, high cheekbones. These fit great.
Unanswered Question
Is it possible to get these posted to a...
Is it possible to get these posted to a BFPO and are there any discounts applicable?
Will theses lens fit a Jawbone frame?
Will theses lens fit a Jawbone frame?
No, they will not - the Split Jacket lenses are actually slightly smaller than the Jawbone lenses. You can find spare lenses for your Jawbone here:
* http://www.backcountry.com/oakley-jawbone-replacement-lens
Best active sunglasses out there!
My favorite pair of glasses. Changing lenses is so east and fast. I regularly switch between indoor and outdoor lenses depending on the setting, time of day. I know it sounds stupid but I feel like I can see better with these on. And im 20/20. extremely comfortable. ill wear these all day on the river or mountain biking and they never slip, never make your ears hurt or give you a headache. had mine for a year now and treated roughly, there are no scratches or dings. pop out lenses and stick in dishwasher (FRAME NOT LENSES). would def buy again if broken or lost. --i have them in red and black

Oh and the lenses can only be seen through in direct sunlight 3-4 feet away, and very faintly. So stay in the shade, creep on creepin' on.
Got the one in white, looks real cool. Got a loot of compliments on it.
The frame it selves doesn't get dirty, but the ear piece gets a bit dirty look after 2-3 weeks of use. Recommended =)