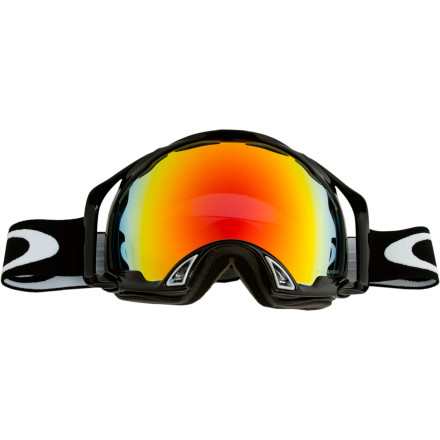 Detail Images

Videos
Oakley loaded the Polarized Splice Goggle with a grip of technical features to make sure your eyes are protected and your face is comfy. The polarized lens helps block horizontal reflectivity (like venetian blinds for your eyes) so you get less glare, and the dual vents and moisture-wicking fleece help keep your eye area fog and sweat-free.
Internal skeletal support system balances the goggle over your entire nasal area instead of just the bridge of your nose so you get a more comfortable fit and more airflow
Semi-flush lens connects at the outer edge of the chassis so there isn't as much frame in your downward field of vision
O Matter strap outriggers help to balance pressure so this goggle is supported evenly
Dual-vented lens with F3 anti-fog tech help your view stay fog-free
Plutonite lenses block 100% of UVA, UVB and UVC radiation so your eyes are protected from the sun
Oakley Splice Goggle - Polarized
These goggles are fairly good. They are comfortable and light weight but it can be difficult to switch the lens. In my opinion, polarized lenses for skiing are useless as it cuts the glare so you can't see the ice and other objects.
Super comfortable, doesn't pinch your nose at all, doesn't fog up, and best of all lens changes are a breeze!!
best lens for bad/dim light of the...
best lens for bad/dim light of the northwest
Hey Eric,

All that is available at the moment is the VR28 which will do okay but definitely not ideal. A great all around lens for most any condition would be a Persimmon. If you want one specific to the bad/low light days go with any of the H.I's like the H.I yellow, blue or pink.
*Polarized* Oakley Splice
Since there's plenty of content and reviews on the Splice goggles but none on the Polarized version, I'll just focus on that.

It's great! You can really navigate your route of travel that much better with the Polarized feature. It eliminates glare on many levels and after some rough abuse there's no change. I always go for Polarized to protect my eyes.

I own the Jet Black/VR28, a wonderful all around lens. I tested it for two weeks in a large range of conditions and it preformed great for an all around lens. In VA the weather can change rapidly so I was tired of trying to predict the weather and decide on the "most optimal lens". I even went riding in trees at night while it was snowing, could see just fine. But while doing that I took some branches straight to the face! Go figure. :P I thought I just damaged my brand new goggles but there were no scratches!

Purchased April 2010 from here, but for $40 cheaper. End of season I suppose.