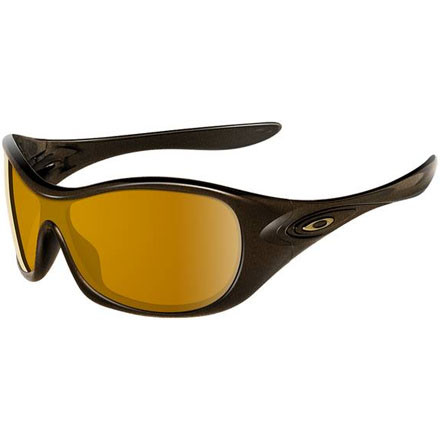 Detail Images

Community Images
Bought these for my wife, and she absolutely loves them. Great fit and very clear vision (that's what she said).
These glasses looked great on the people in the catalog I saw them on. However, I am pretty petite and though I love big sunglasses, they stuck out too far on the sides of my face. Bummer!
These were just too big for me. I don't really like the big sunglasses look though. I didn't like that you can see through the glasses either..I opted for something a bit smaller and more sporty.
Sporty Hollywood Glasses by Oakley
I've had 2 pairs of sunglasses I wear regularly until now -- this pair is fashionable enough to wear when I need it, and sporty enough when I need that. This curve is very special too --I haven't seen much like it and I get a lot of compliments.
I got these as a gift for my wife, and she loves them. They look great on her, not too large like most female sunglasses look nowadays... and she says the vision is excellent.
I have these glasses in the crystal pink, and I love them! They aren't too big and they have the perfect wrap for my face! they look awesome and I got tons of compliments!
Oversize but not OVERsized.
If you want a trendy looking pair of glasses that are also sporty and practical these are for you. I also have a small face and these are just right to get the current oversize shades look without looking like a fool. I have had mine for about 6 months and have received many compliments on them. Comfort has never been an issue.

I have the brown sugar color and absolutely love it. The pic doesn't do these frames justice, because when in the sun, tiny little gold sparkles become evident in the frame...not obnoxious, just enough to feel a little glam.

As always with Oakley products, they are very high quality and they come with a nice hard case AND soft case/cleaning cloth. Handy when you travel a lot like me. Oakleys are very durable in general, as the frames on my last pair of Oakleys just cracked and they were 7 years old. Worth every penny!
I absolutely adore these sunglasses. They have the right balance between retro and modern, and are very durable despite the light frame. I have the white ones, and they really pop out. I constantly get compliments on how cool they look. I also like how people can see your eyes through them, unlike some other lenses. They fit really well, and don't look too big at all!
I have problems finding any sunglasses at all to fit my face right. I have never been able to wear big shade, but always wanted to. These shades are great. I have gotten a lot of compliments on them and have only had them a week!
I wear these more than any other pair.
These Oaks are amazing. I bought them last year when they first came out (or was it the year before?). Whatever. I have a small face, and they don't make me look like a bug. One of my friends who has a bigger face than me wore them, and they looked good on her too. They're also light. You can wear them for hours and forget they're on your face. They're virtually indestructible, too. And it's a given for Oakley, the quality of the lenses is second to none.
Good Sunglasses Depending on Color
Hey. I actually ordered four colors to compare. The crystal pink (probably would look good on bloods), red tortoise (good vibrant color), polarized tortoise, and then cinder black. I kept the cinder black which is a pretty cool color with hints of bergundy/black. The fit of the sunglasses is fairly large for a small face...but not too oversized like some other sunglasses. Overall, it's a pretty cool looking frame and fits pretty good.
Fantastic service all the way. Due to problems with the shipper where the first shipment was not received, these folks replaced the glasses immediately and shipped again. Absolutely first class service, knowledgeable and courteous personnel at every phone call. I highly recommend this site and would do business with this company first. A+ all the way.
, ☃bcs_badge_alumni_label☃
Big shades that still fit a small face
I have been wanting a pair of big shades but I have a small face and look pretty ridiculous in most of them- these are different. They have a nice wrap to them that doesn't make them look like bug eyes and provide a nice fit. They have a great lens and are super comfortable.