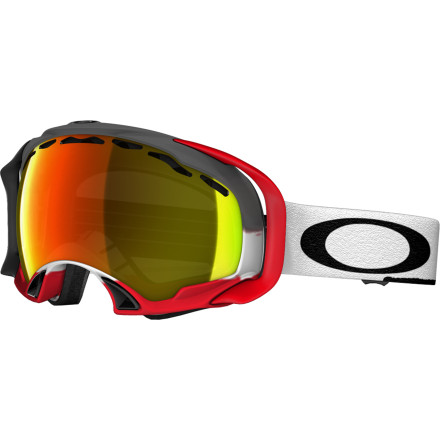 Videos

Community Images
Quarterpipe-air record holder and pipe wizard Simon Dumont puts his signature style on the next evolution in goggle technology from Oakley: the Splice. Re-engineered frame contact points increase downward visibility and decrease nose pressure for easier breathing. After all, when you're 35 feet up off the deck, the air gets thin.
Lightweight, flexible, impact-resistant O Matter polymer frame
Dual-layer anti-fog Plutonite lens with XYZ spherical optic technology
New, lower-profile strap outriggers for even pressure distribution with or without a helmet
Triple-layer wicking face foam for comfort
Oakley Simon Dumont Signature Splice
Oh the awesomeness is overwhelming
I'm on my second pair of splices, and I'll be buying them for years to come. The peripheral vision is second to none, and say goodbye to nose pinch. Additionally, the frame fits perfectly with my helmet (Bern Classic), so no gaping. Worth the money, for sure.
This is a solid goggle to have in the arsenal. I have the fire lens and ski with it on those blue bird Utah days. Overall the goggle is great. I have a smith Variant helmet (L) and the strap on the goggle is pretty tight but there is still some room for stretch so it is not extremely tight on my face. The strap graphics are a little lame, would have been nice if they were straight red or solid red on black but that's minor. Overall if you have a larger size face go for the splice over the crowbar.
ive heard some pretty bad reviews about...
ive heard some pretty bad reviews about backcountry.com. is it actually reliable or should i just go somewhere else
I order from BC often and receive my orders super fast. granted I live in salt lake city, close to the warehouse. Just curious, what kinds of bad reviews are you hearing?
I've ordered a few times. The shipments come super quick to Seattle, WA. They have 100% guarantee on all their stuff, even after you use it and find out you don't like it or want an exchange. The chat is really helpful in finding the right gear. It's like an online REI.
I have ordered a TON of stuff from backcountry and have never been disappointed. The orders come quick and are never beat up due to excellent packaging. This year I ordered a brand new snowboard and bindings from backcountry. I would never ever, never in a million years, ever, never! order a snowboard full price that I could buy in town, online, if I thought it would get dicked up or wouldn't come right away. oh yeah- I live in Minnesota
backcountry has never disappointed me. great service and fast shipping
Oakley Splice Goggles are probably my favorite goggles made right now. I don't love the dumont graphic, but I do like it a lot, probably like more than a friend. My favorite color is the new blue/orange and yellow/blue models. But this red is a pretty solid choice as well and I would not judge you for buying it.

The Oakley Splice goggle is the most optically correct lens on the market. It is as impact resistant as a pair of safety goggles, and the stiff bridge over the nose keeps your nose from getting clogged. What else could you possibly want?
I've worked in a ski/snowboard shop and have tried and owned many goggles and these by far are the best. No nose pinch and good peripheral. I used to wear the Oakley A-frames, but they don't fit so great with a helmet. These fit great with any helmet and i wear the Smith Holt. I got these with the fire lens and an extra H.I. yellow lens. Super easy to change out in comparison to the a-frames and crowbars.
I am on my second pair of these goggles. I get compliments every time i'm in lines or on the lift. Super comfy, and they look awesome. My biggest complaint is the fogging. Every single time I get to the bottom and wait in the lift line they fog up... every time. I have worn them with beanies, helmets, you name it....I've tried everything I can. As long as you keep moving these goggles are amazing!!!.. just don't stop!
do these work with smith holt?
do these work with smith holt?
ya, they work with pretty much any helmet.
I have these goggles with a Smith Holt helmet, and the fit is PERFECT.
The Good: These look amazing with my Smith Maze helmet and fit seamlessly, rarely fog (and only when I stop to breathe) and have decent visibility.

The Bad: They do pinch the top of my nose (unlike my Bolle and Brikos), and the frame is so far out it slightly blocks vision when looking down. I have to hold the bottom of the goggle off my nose to breathe.

The DL: These are pretty bardarss, the Fire lense is actually decent in all light conditions including flat light and they never fog when you're moving. I'll put up with the nose pinch and rally dusk til dawn with the Splice.
Unanswered Question
Hi has anyone used these with a large Giro...
Hi has anyone used these with a large Giro Seam helmet.
These are by far the best Goggles i've owned.
There perfect. they look sick and They feel good on your head
Hi, does anybody know if these goggles...
Hi, does anybody know if these goggles could possibly fit into a Bern Baker helmet? Thanks a lot! Tomas
Wil these goggles work for sno x helmets...
Wil these goggles work for sno x helmets?
Yes, they will. The outriggers on the sides make them fit evenly with any helmet, including the snow x ones.
how is the peripheral vision on these...
how is the peripheral vision on these goggles?
Pretty wide. I would say wider than the A-Frame and even the Crowbars, but definitely not the widest on the market.
Usage: Snowboarding
Location: Only Tahoe so far, will update if used elsewhere (just got them)
Helmet: Yes

Summary: Got compliments on them while riding first chair of the day. Definitely sick looking goggles. Construction is impeccable, no excess glue visible, very stiff in the right places and bendable across the frame. There's no nose pinch, but there is nose pressure (that's the -1 star). I still had a bit more pressure than I'd like across the bridge of my nose and it would block airflow a bit. I'd pull them back off while riding chair back up and all was well. Peripheral vision is key here. You get more on the sides, but you still are aware of that inverted "V" right between your eyes. I'd considered the few other air force-pilot type options on backcountry (i think there's a POC and an Anon that take up half your face), but this had the nicest lenses of the bunch.

Originally got them in persimmon, but returned them for the iridium. Use the lens simulator on oakley.com to get an idea of what the difference is. The iridium is much better for bluebird skies and bright overcast, but I really began to lose contrast as the sun started going down.
Oh my gosh, these are by far the sickest goggles ever. No nose pinch, more peripheal vision. Also it fits a lttle better than the crowbar with more helmets. The goggle basically looks like the crowbar but when you put it on and ride with it you will notice the difference in the overall quality, not to mention how insanely awesome you will look in it. So basically, you need this goggle. I guess the only bad thing about this goggle is that if you break it somehow which is like a .0001% chance then you will be sad pretty much forever.