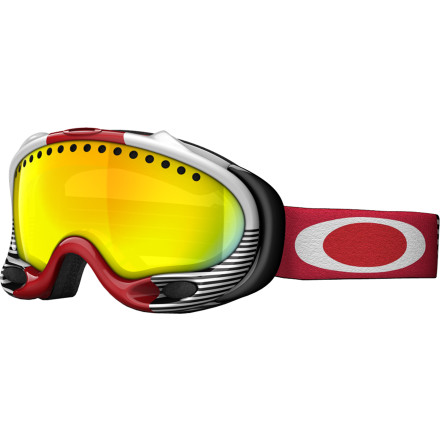 Detail Images

Videos
The Shaun White Signature A-Frame Goggle fuses proven Oakley technology with the creativity of the X-Games and Olympic gold medal winner himself. If you think the A Frame is dated at this point, having been around since the Y2K scare, think about it this way: when Red Bull builds you your own private halfpipe, complete with the first documented on-snow foam pit, on the back of Silverton for your training sessions, you can pretty much have any goggle you want. Shaun chooses the A-Frame.
Lightweight, flexible, impact-resistant O Matter polymer frame
Dual-layer anti-fog Plutonite lens with XYZ spherical optic technology
Triple-layer wicking face foam for comfort
Are these goggles unisex?
Yes! They are a small/medium fit.
Oakley Shaun White Signature A Frame
works great and comfortable
My wife got these for me for Christmas and I love them. super comfortable and worked great. no fogging and clear vision. could wear for hours with no issues. can't ask for much more from a goggle. and to top it off, they look great.
Felt good on my face, got the pink iridium lens which worked well in all lighting conditions. Long story short, all the money I spent on any previous goggles were a waste of money. Get these, best bang for the buck. And if it's good enough for Shaun White, it'll work for you too :)
These Oakley's are super comfortable. The Vr50 Pink Iridium lens is great for flat to mid light conditions. They do cut off a little bit of my peripheral vision due to the super soft lining of the frame sometimes creeping into view. Otherwise it's just what you would expect from Oakley, a high quality frame with great interchangeable lens options.
Can you see as good with the pink iridium...
Can you see as good with the pink iridium or do most people prefer black?
Hey Britta,

The lens choice really depends on the weather/light conditions. The Pink would be great for a low light (flat light) day. Black would be a little more versatile but can be a little hard to see with on those low light days.
black works great for blue bird days, pink for lower light. to be honest, i would think about avoiding pink. a friend has them and she complains that it's too bright during the day and too dark at night. so if you do both, it might work, but i would consider specializing a lens to your riding conditions (time of day).
Dont get the pink. i got them and my eyes get burnt at the end of the day, and its too dark on low light days
These goggles are the best $130 i have ever spent. i have the persimmon lenses and they are dark enough for bright days but light enough for night riding. Very comfortable, and high quality goggles.
Not bad....i guess. I was truly disappointed in oakleys quality with these goggles. they worked great for about 3 days and then for some reason they slowly began to get foggier and foggier. soon they were so foggy i could not see 4 feet in front of my face. I tried to wipe the fog of with the bag, thinking it was on the outside of my gogg's but it turns out that a seal or something broke inbetween the inner and outer lens and it is impossible to wipe the fog out. oakley not your best, considering i own 5+ pairs of oakley googles and sunglasses i would know these do not meet my expectations for oakley. they do not even come close to sort of meeting my expectations.
I have last years Shaun White A Frames, although I have only had one other pair of goggles (old school Spy's) these goggles blow them out of the water!!!!! Super comfortable, and good for all conditions. I have the black iridium lense in mine and they are clear in every condition and you are able to see every detail in the terrain. Highly recommend spending the extra $$$ on these, you wont be dissapointed.