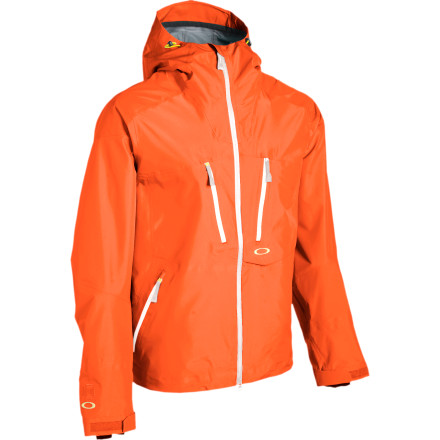 Detail Images
Share your thoughts
What do you think of the
Oakley
Sethmo Jacket - Men's
? Share a...
Just finished up about 55 days of skiing for the season with this shell and it's treated me well. Gore-Tex is hard to beat if even possible in terms of being waterproof so I can't complain there. What I can and will complain about however is it's lack of warmth. I realize it's just a shell but for 3 or 4 hundred bucks I feel like even a shell should offer some kind of warmth or light liner underneath. Every time I had to use this shell for a powder day I had to use so much layering underneath that I almost lost mobility. The shell itself is great, very lightweight, and waterproof as hell but man you have to layer the heck out of it if it is even the slightest bit cold out. Which on the flipside is nice for when it's not that cold out and you don't want that much warmth. The lightweightness and fit is great and the amount of pockets is adequate but just be ready to get into some serious layering if you want to use this for cold, powder days.
I'm 5'8 and 150 pounds or so. I like...
I'm 5'8 and 150 pounds or so. I like jackets to fit a little longer than normal but not too baggy around the chest. Should I go for medium or large? Also, how is the durability? I know the pro shell keeps out water but I've read some comments about the jacket tearing pretty easily.
I would go with the large if you like a longer fit in the body, bear in mind you will probably have a little extra length in the arms. Personally I find that the pro shell used on this jacket is as tough as anything you'll find, plus its superlight so you get the best of both worlds. The whole sethmo layering system works really well, and this is a great shell.
Hi Seth,

Just trying to get an idea of...
Hi Seth,

Just trying to get an idea of the fit/baggyness of this jacket. Can you tell me what size jacket are you wearing in "the ordinary Skier" movie? I'm very similar in height/weight to you, 155 lbs, 5'9", 33" waist and 40" chest. Based on the sizing chart I was thinking Medium, but maybe bordering on a large, would be good to have a visual perspective though. Thanks heaps!
XL, The jacket is a fitted fit. 155lbs, 5'10" 33 waist.
Is it really too thin? I saw the jacket...
Is it really too thin? I saw the jacket in a local shop, but just size large, I need a small, but it didn't look thin compared to others I've seen as well, TNF, Arcteryx and Patagonia goretex pro-shell 3L. I saw many reviews either here or other places saying that you are gonna rip it easily on the first days if you go off piste of have a bad fall. I thought this 3l goretex pro-shell were supposed to be kinda bomb proof... is is just this one that is bad quality? oakley is supposed to be a high end brand, I have the sethmo fleece and the quality is great, checked the jacket on local shop and doesn't look different than the others... I'm assuming the pants are made using exactly the same material...
Marcel - the quality on the Sethmo is top notch and on par with other 3L goretex shells, I don't think you'll have issues. If the jacket rips on you when it shouldn't, send it back to Backcountry and we'll be sure you are taken care of.
Can you actually use all the sethmo fleece,...
Can you actually use all the sethmo fleece, softshell and pro-shell layers... could you also add the down jacket all at the same time for the ultra cold days? I`m assuming the fleece and pro-shell are not enough unless you are skiing on spring day, would adding the softshell be enough or you would need something else?
Fleece would probably get you through most active winter days of skiing, if however you run cold like me, I'll often wear a down sweater under my shell for cold days riding the lift. The softshell won't really address the insulating issues. I'd stick to down or fleece for that.
I use a base layer and the fleece with this jacket everyday during the winter. On cold days I add the down jacket to that combo. When hiking I shed those mid layers to the backpack and open arm vents and main zipper for comfort. The pieces are designed around layering. You just need to learn what works for you on those certain situations. Not sure why the base layer is not sold here. The soft shell is more for spring and warmer days where you would layer appropriately for those days with that piece as well.
Overall it's not bad, not sure it's worth the price
I posted an updated review on the Sethmo pants...long story short they ripped on the first day. Two small holes in the thigh area and I can't figure out how they got there no falls or snag that I remember. So much for the durability of these gortex proshells. I'm sending them back to backcountry.

Since the pants didn't hold up I'm really nervous about the jacket holding up the rest of the season. I ride up in Summit County CO, mainly the resorts and side country, some pow hunting in the trees, some hiking here and there. I bought this jacket and pants because of the versatility of the design in weather conditions, but the material is so thin it seems that it can and does rip real easy. I'm really concerned that I'm going to put a hole in this jacket the first time I snag a branch. I wouldn't dare put a sharp ski or board edge on this jacket. The material is so thin that if you hold it up to a light it penetrates quite a bit. It feels about a little bit thicker than potato chip bag material. It seems more like gortex paclite than proshell in my opinion. I knew this when I saw it at a local shop but I figured it's pro-shell so it has to be bomb proof right? Not very confident now. I can't send it back because I didn't buy it from backcountry...decided to go with a cheaper price at a different retailer. Bad call, pay more for the guarantee.

Overall I love the cut of the jacket and loose but not baggy, orange color looks sharp, the jacket and pant interface is great. Snap or zip in and you are about totally sealed. Unfortunately, Oakley sacrificed lightness for durability in my opinion. It does feel like you are almost wearing nothing, but this jacket provides zero insulation capability. 0-25 degrees and you have to wear warm multiple layers. I had a down jacket and patagonia cap 2 base and was a little chilled at times. I will put my polartec on as well next time, but now you are talking about about $250+ of additional layering to stay warm up top...but it is just a shell, so I can live with that. Other things to note, it could use better interior pockets. It only has one that barely fits my iPhone and my headphone jack fits in it awkwardly. I'd like to see another interior pocket on the other side to hold balaclava or whatever. A forearm pocket would be good too along with a pass holder somewhere. Mesh vents would have been have been nice as well. The hood works with a wire brim but it barely fits my Smith Vantage helmet (size medium). It's pretty tight.

The waterproofing is what you expect. I took it out in cold rainy downpour and it just shed water like you would expect. My concern it will rip and it doesn't matter how waterproof it is, if it rips your going to get wet. We'll see how it goes for the rest of the season but for a $500 jacket I feel I shouldn't have to worry about rips. If you ride open bowl powder all day, never fall, or rub a tree then I guess your good...but there isn't much powder around Summit County right now. I'm thinking I should have gone gortex softshell...
hey do you know why the cinder orange on...
hey do you know why the cinder orange on the oakley site has a black zipper http://www.oakley.com/products/sethmo-jacket/411500OEUEUA-79T and you guys have the one with the white zipper? Are there different models of the same jacket? I know it's a minor difference but it kinda changes the look.
All I can say is it may have been a sample on the Oakley website. All the ones I have seen have white zippers. I'm pretty sure all the photos on backcountry.com website are taken by backcountry.com.
It has white zippers, got one from Christmas. Yellow and white logos and zipper pulls.
Powder skirt? Or does it only zip/snap...
Powder skirt? Or does it only zip/snap into the Seth pants?
Hey there, yeah it has a powder skirt that interfaces with the Oakley pants...
How warm is this jacket, as in how many...
How warm is this jacket, as in how many under layers would you wear with it on a reasonably cold day?
Thanks
It is just Gore-tex Pro shell, so it is not insulated. Great overall barrier to the elements, but I would probably have a wool base layer, wool/fleece zip neck sweater. On super cold days I might wear a light down vest on top of the inner layers.

Good looking coat. and proshell will last forever.
Took it out last weekend in 10-15 degrees, sunny, and no wind. Had a down jacket, base layer and was still a little cold. This jacket is so thin it has zero insulation capability at all. Super light minimal shell that can be used in winter and summer. I think if I had worn my polartec mid with the down jacket I would've been fine.
This is one of my favorite to date. Gore-Tex Pro Shell so light, breathable, water and windproof. Tested in the Chamonix Valley. Nice chest and hand pockets for cameras, radio, and phone. Right chest pocket has an access zipper to your inner layer so it works in conjunction with the modular fleece layer chest pocket for things you want to keep safe and warm. 2 way zipper to help with other inner access so you don't have to need to take you jacket off. Shirt will connect to pants to make a one piece. Bill has a wire in the visor to help shape it. Packable as well! Photo of Nate Wallace on Mallory in Chamonix.