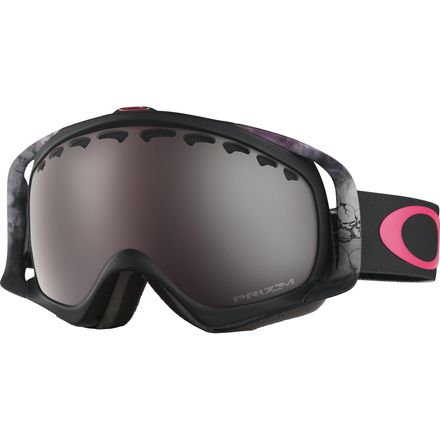 Colors

Detail Images

Community Images
Description
See it from Seth's perspective.
Seeing as how ski icon Seth Morrison tagged the Oakley Seth Morrison Signature Crowbar Goggle with his own name, we know the Crowbar offers crisp, fog-free optics, bombproof durability, maximum versatility, and a little style besides. Oakley's HDO lens ensures un-distorted vision from any angle—say Buenos noches to fun-house-mirror peripherals, and the scratch-shunning lens treatment stands up to tree branches, face-plants, and jacket zippers. Oakley's anti-fog lens treatment banishes moisture build-up, and the included Microclear bag comes in handy when you need to clear snow out of your Crowbars after a failed attempt at Seth Morrison-like epicness.
New Graphics
Familiarity:

I've put it through the wringer
Crowbars have a nice consistent feel on the face. Fits in helmets, good breathability, but mind you common sense must be used, such as you can't really hike in goggles unless the temperature allows. Or placing them on forehead for any extended period of time. G30 is my favorite, the Rose is the newer G30.
AWESOME
Gender:

Male

Familiarity:

I've used it once or twice and have initial impressions
You get what you pay for and Oakley delivers again!
Best goggles I've ever owned.
These are great goggles. The clarity and vision I have with them is amazing. I've never been one to invest much money in a set of goggles but these have been well worth it, even though I didn't pay full price. I have the G30 lenses in mine which are supposed to be good for all-around, everyday conditions including low and high light. I have found on a few occasions that I've had to switch to my amber-tinted low light goggles but for the most part the G30s handle well in low-light unless it's really dark and stormy. They're very light, durable, and have cool skull designs all over them. I'm still kind of at a loss as far as cleaning goes because I don't want to scratch them but the goggle bag seems to work well enough. My face is pretty narrow but they don't look too big on me- if you have a really narrow face these might be a little on the wide side.
Been an Oakley fanboy for a long time. I can say Seth and the folks at Oakley have outdone themselves on this years goggles these things look fantastic, the graphics pop, the strap is badass, and the bag matches the whole setup. At the resort a ton of people asked me which model goggles they were, and in the backcountry these suckers are top notch. The crowbar system to me is the best one that Oakley currently has going, the fit is perfect with or without a brain bucket. I use the G30 lenses for most everything though if its a really bright clear day I will toss the gold iridium in them to save my precious eyeballs. Plus they make you like 40% more awesome because Seth endorses them.
hi, these are awesome!!! how do you clean...
hi, these are awesome!!! how do you clean the inside once gets wet. Ive let it dry ...
thanks
Hey there! Don't try and clean it when wet, the outside you can... once the inside drys, you can use the fabric goggle bag to clean it... if the stains are not coming off, you can use your breath and that should clean it off...
New art for this year, look close on the frame at the Skull details. The strap is a knit and knit print, similar to the one from 2 seasons ago, much more durable than last years screen print. Strap has silicon on in side for no slipping on helmets, strap does fit helmet and head. Crowbar has been my favorite for years, fits in helmet well and has a nice face curve to fit you well. My favorite is the G30 lens to cover all light conditions, maybe a bit bright on sunny days, but the way you can see in the shadows in unparalleled. Bag matches artwork on goggle.
Just wicked, no comment... great color scheme, although Seth is a skier, I use them for boarding =P
These goggles are High quality and fit, they fit great with a helmet and have never given me any problems with fogging even when my friends could not see out of their goggles I was fine.

I ordered the G30 lens and they are great in every light type condition you will find on the mountain, visibility is superb. Plus the graphics are sick!

*Only con; be careful and do not wipe the inside if wet let them air dry in the lodge if you have to, if you do your lens is shot! but they dry quickly.
Took seths advice and got the g30 for flat light. Just want to say it kills all conditions, def a everyday goggle. And yes it slays the flat light,
you may not even know it's flat light. Thanks seth, the goggles are awesome
These are my everyday goggles and work great at least for the east. I have the G30 lens for these and they work perfectly, If you are on the fence about buying these just buy them they are worth it.

Dan
These goggles with the G30 lens are my go-to for 90% of days out skiing. As long as you don't have direct sunlight hitting you constantly, these will be keen for being able to see whats going on. I wear them with a Bern watts helmet and they fit excellently. No painful pressure points, no cloudy spots...even when I wear them while hiking. As long as these goggles fit your face correctly, you will not be let down by them. Rock it like a champ!
Seth has survived monster avalanches and miles of vertical with a punk-rock persona that runs on pure adrenalin. That's what inspired the sick new skull graphics on this Signature Series goggle, a salute to an athlete who defies gravity, dares fate and devours mountains on a super nice goggle in the oakley crowbar
I don't own the Seth Morrison graphic Crowbar, but I do own many pairs of crowbar goggles. I love them. They are really optically clear, fit almost anyones face. They fit well with a helmet. They only fog up if you haven't let them dry out for 3 days in a row. They are comfortable, and they are really impact resistant. My only warning is that the inside of the lens scratches easy, so don't follow the instructions for cleaning...seriously.
Looking for the best flat light goggle....
Looking for the best flat light goggle. Price is not a concern. Thanks for any input. Seth, if your around, what do you use in flat light?
Best Answer
I like the G30 lens for everyday use. It can be a bit bright on sunny days, but find that going through shadows, storm days and constant light change through out the day it is the best all in one for me.
I think everybody agrees with seth
I have been using these with my Smith variant brim helmet and they fit great. Not too tight like the IO's were.