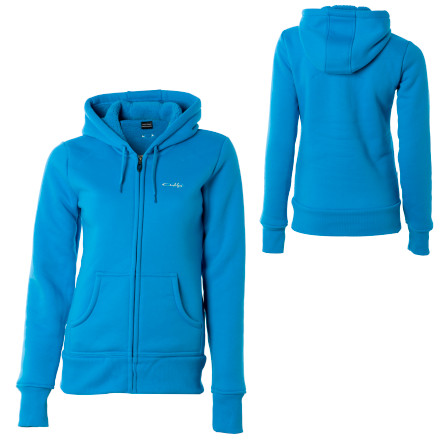 Detail Images
This is a great hoodie. It is a little water repellent and is more like a jacket than a hoodie. This thing is thick. The inside is soft and keeps you really warm. Definitely a staple for me all winter.
Being from Alaska, I'm accustomed to wearing hoodies year round, even in the nice summers the temp can get low. I now live in Utah, and this sweater has done me well! This is my favorite out of all my hoodies (I have at least 15). I usually don't like zip-ups, but this one is great. The zipper doesn't get all bulged out like other zip-ups, in the wash OR
while I'm wearing it. The bottom gets a little snug once zipped, but it's a good thing on this sweater- it keeps you looking like a girl!
This sweater is great for camping, it's thick and warm. I've also worn it walking across campus in a snowstorm and it's been great.
All in all, worth the money!
The material on this sweatshirt is a little different then normal cotton. It has a shiny texture that allows water to stay out. This is a great all around sweat shirt. I wear it to my way to the gym or put it on instead of wearing a jacket in the Fall/Spring. There is also a little visor on the hood that is kind of cute. It is not too big, but definitely there.
The Oakley Scope hoodie is warm and cozy. Its interior is fuzzy throughout, even in the hand pockets. It is great to wear in temps in the 30s to 40s (Farenheit). I live in the Denver area, but sometimes travel to southern California. This hoodie has served me well in both regions this winter.
I own this hoodie in every color and love them to death...I am 5'7 135 and have a long torso and medium is the best fit. I got smalls at first but they where way to small. It has the softest stuff threw the entire thing not just the hood and body like most but in the arms too. Not a summer hoodie unless you live in SE Alaska like me!! Buy it, its so worth the $$.