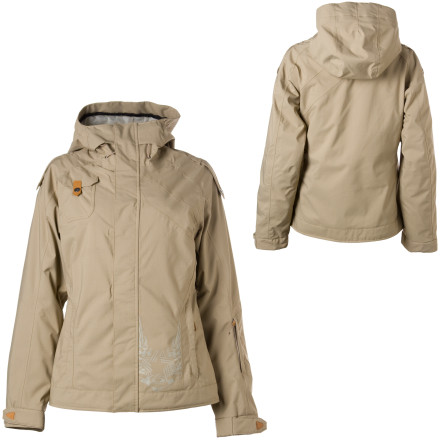 Detail Images
Share your thoughts
What do you think of the
Oakley
Sash Jacket - Women's
? Share a...
I love my jacket! I have gotten a lot of compliments on it! I bought the bright yellow color (I always buy bright jackets because I'm scared of getting buried in avalanches and I figure the brighter I am, the better!) and I really like it. At first I thought it was too bright, but I wore it a few times and it's perfect. Also, it has lots of convenient pockets for my ipod, camera, etc. Definitely recommend.
Do these jackets tend to run big, small,...
Do these jackets tend to run big, small, or true to size? i typically wear a medium, would the large be too big? thanks!
A medium in an Oakley women's jacket is an 8/10.
I haven't had much of a chance to wear this jacket in seriously cold weather (its only September) but I can tell you that you get exactly what is described and what is shown in the pictures and then some! I didn't realize that the black under shirt with the thumb holes in the picture is part of the jacket. An added bonus! I have no doubt this jacket will keep me warm, dry and looking good all winter long no matter what I'm doing.
This jacket is bood. Not only did dogfunk get it to me in 2 days when I paid for regular shipping, the jacket is one of the coolest things alive. It has a few key spots of fleece on the inside, and the pockets are perfectly placed. Another sick thing is that I don't have to worry about my hair getting stuck in the velcro because the front stays closed with magnets. Very nice jacket, would recommend to anyone.
good deal, good fit, light and insulated. has magnetic buttons and other adornments that make it interesting if you get amused by details. should buy.
I would like to putchase this jacket but...
I would like to putchase this jacket but just need to know if I would get it in time for Friday as that is when we are going to the snow

regards Helena
There is never a guarantee with shipping, but if you do the 2 day shipping method, it is highly unlikely that you would not receive the piece by then. Even if you bought it today and did ground shipping, the shipping with Dogfunk is super fast, and would make it to your place by friday. But to guarantee arrival, I would pay the additional amount to 2 day it.
I just bought this jacket, and I already love it. My main use for it will be wearing around town and in school at college in Boulder, CO. Its really cute and warm, and I LOVE all the pockets! I also like the built in wrist gaiters that will fill the space between the jacket and the gloves. I also love that there is no velcro, instead there are magnets. Velcro is really scratchy and my hair and other clothes always get stuck to it! Overall, a SERIOUSLY great buy. Over 50 % off and Oakley is an awesome brand.
I LOVE THIS JACKET. It's very slim fitting and not bulky at all. It has two zippers, one for a closer fit, the other if you have like multiple layers on. (They can't be zipped up at the same time.) I love the magnets in addition to the zippers. They just make the jacket look and feel really sleek. While the jacket is pretty warm, if it's REALLY cold outside, you'll need a couple of layers underneath.

People who know snowboarding jackets say that the price is a STEAL. (I'm just a newbie so I lucked out, apparently.)
I absolutely love this jacket! I got the yellow one and it really is a super bright "big bird" yellow! Very nice fit... hugs in all the right places :) Warm and very waterproof... I boarded in snowy/rainy conditions and it kept me dry. Wonderful jacket for the price!
Stay Warm and Never Lost in Yellow
I really love this jacket. I opened up the package and immediately fell in love with the yellow. It is very bright!! No one will lose you on the slopes. It's very comfortable, as well. I used to have to zip in a fleece to my old jacket, but with the strategically placed thinsulate insulation, I was warm and toasty all day in western NY. The pockets are well placed. The powder skirt at the base and at the wrists kept me super-dry despite 2 rough biffs. I'm a fan! I would also like to know a good compatible zip-in, though. None of my current zip-ins fit this style zipper.
I just bought this jacket and I'm wondering if there are specific Oakley fleece that zip in or will most anything work?
Unanswered Question
I'm looking for the pants for Oakley Sash...
I'm looking for the pants for Oakley Sash Jacket. Do you have it ?
Just bought this jacket in yellow and it finally came in. Love the color, fit and length of this jacket. The yellow is on the bright side but I love that I will stand out on the slopes. They don't mention this in the description, but the jacket is 3 in 1. So if you have an extra zip up fleece lying around, just zip it in for extra warmth. I definitely recommend this jacket!
I bought this jacket for one main reason: no velcro down the front. It has a zipper with a magnetic storm flap so all your other articles of clothing do not get stuck to velcro. I like the simple style and length of the jacket as well.