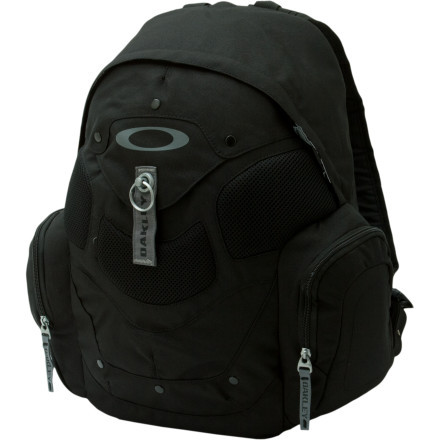 Detail Images
Don't haul your stuff around in a wimpy bag. Thanks to its durable polyester shell, the Oakley Ripcord Backpack perseveres. Oakley stocked this pack with side zip pockets for your phone and iPod, a front pocket for shades or headphones, and an internal organizer pocket to keep your small essentials easy to find. All-over metallic rivet accents punch up the Ripcord's already tough-as-nails look, and the padded nylon back panel feels cushy during long commutes.
Unanswered Question
What are the dimensions?
Good back-pack, nothing fancy
This a good backpack, especially for the price. It has nice padding for your back. The straps are a little thin on padding, but certainly adequate. Decent organizer stuff inside the big pocket and spot for a cd player (seriously, who uses one of those anymore?) and a little headphone hole coming out of the top. It has 4 pockets: the main large one (with the organizer stuff), two little side pockets (one on each side) and the padded sunglass pocket (I store my headphones here).

Two things I wish it had: a water bottle pocket (you can almost use the side pockets for a water bottle, but mine falls out) and I wish it had a detachable key chain thingy. It does have a clip on the inside to attach your keys, but it's kind of a pain to use the clip. I would rather have something that I put on keys that easily attached and detached from the pack.

All in all, I just wanted a pack to take to work with me that could hold my lunch and a few odds and ends. This does all of that and I like the look of the gray color. Deserves a solid 4.
Excellent Light-weight Bag
Used this for a couple of days now and it's an attractive, light pack that carries more than I expected.

Good-lookin': stylish and simple instead of overly "flowery" like what's "in-fashion" for board or skate gear. The coloring is clean and solid with Oakley branding added in a subtle manner.

Usable: side pouches can fit a 600 page paperback novel and the front convenience pouch for keys/phone/wallet is awesome - the location, cloth strap for easy opening and use of velcro instead of a zipper make it really easy to open and use without setting down the backpack. This is easily my favorite part of the backpack. There's some "organizer panels" in the main pouch (2 on front side accompanied by a clip and 1 on back) - their sizing is good for energy bars or a passport, but I wish there was a larger divider in the main pouch area to separate wet/dirty clothes/shoes. There's no chest-strap, but the shoulder straps are actually shaped well enough to where the bag contours pretty well to your body if you tighten it to a suitable level.

Lightweight: small size keeps the bag light compared to my laptop backpack - but my laptop still fits in this one! I'm literally taking off what feels like 5 pounds of weight off my back switching from my Swiss Gear laptop backpack to this Oakley.

Overall: excellent light-weight bag that I'm going to take snowboarding and biking. Oakley got the sizing and design right with this one.
love this backpack. not for long journeys. excellent for carrying overnight clothes or books/papers. there are tons of backpacks out there that are HUGE... too big. if you want a smaller back pack that you can stuff as necessary, quality material, and will not get too big, this is for you.