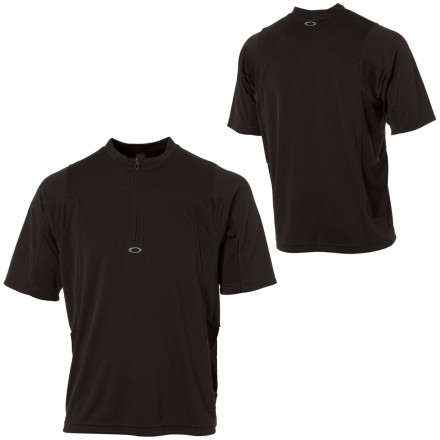 Detail Images
Good combination of tight and loose fitting.
Does that title make any sense?

These shirts seem to strike a good balance between tight fitting bike jerseys and super-loose shirts that "those crazy kids" wear nowadays.

Breathable, I use for mountain biking and also hiking.
A decent shirt for the price
I like the feel of this jersey. The fabric was soft and breathable, and the zipper felt sold. I was not as sold on the fit. I have relatively broad shoulders for my size, and it just fit me...oddly. It felt extra baggy and a bit sloppy, especially in the sleeves. When zipping down a trail, I thought it might get hung up on a branch or three. In all, a decent jersey for the Steep and Cheap price, but ultimately I decided to return it.
jersey is well made. feels great. the tail is a little long for my body syle though.ordered two of them,one was a x-large in a large bag. Back Country willtake care of it. runs true to size. thanks, Back Country
First Jersey I've ever purchased. It's real comfortable and fits great.
Bought a 2x military olive color jersey. nice fit. Runs true to american sizes. If you wear an xl shirt order an xl. Breathes nice. No pockets is the only downside if it had pockets it would be 5 stars
I got the Olive Green one. Comfy breathes well. The neck fit a little strange on me, but I just pull the zipper down a tiny bit and its fine.
what can i say. great stuff.
I'm fairly new to the world of cycling jerseys, but this one seems to be perfect. It is lightweight, breathes well, and fits very comfortably. It is also very affordable and looks great. The only complaint I have is that there is no pocket for car keys, etc. Not a big deal at all. I still love it.
I've had this shirt for a couple of months... The first time I wore it, it got lots of little snags and a hole on the front, most likely caused by the belt from my Camel Back. Frustrating that it seems to snag so easy. I have other jersey's that have not snagged at all or as mutch... On the upside, the tire tool is pretty cool.
Good stuff at a good price
I love this jersey. Super comfy and breaths well.
alot of shirt for the buck
This jersey is great!!! The only complaint I have is that its too loose. I bought a small and even that was a little to big.
are there pockets / pouch?
are there pockets / pouch?
Biking with good gear is awesome. I like this jersey. The collar seems kind of wired shaped, but I can't complain because it still looks good and performs. It also looks great with a pair of Oakley bike shorts, so hook it up.
Bought on on Steep and Cheap, great buy and even better when on the trail. Breathes nicely so you aren't soaked and is very light weight. A must have!