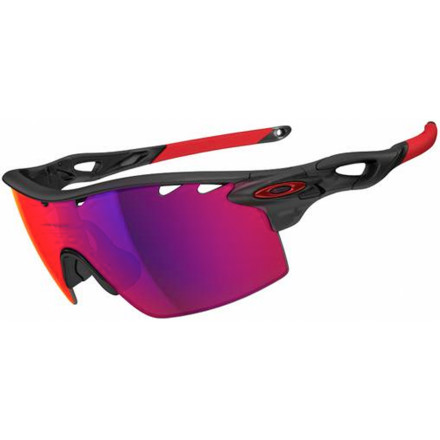 Some sports, like cycling, require you to keep your head down for the correct performance position. The design of the Oakley Radarlock XL Straight Polarized Sunglasses takes that into account. Oakley gave the Radarlock XL a 19mm nosebridge to allow you to see under the top frame of the sunglasses in this head-down position. This revolutionary design, along with Oakley's performance technologies and proprietary polarizing technology, make the Radarlock XL Polarized Sunglasses your go-to sport shades.
Switchlock interchangeable lens technology makes it easy to change your lens for varied light conditions

Oakley's proprietary polarizing system eliminates glare so you can perform at your best

Integrated surge ports promote airflow to prevent fogging

19mm nosebridge height creates a larger field of view so you don't have to keep raising your head

O-Matter frame is stress-resistant and ultra-lightweight

XYZ Optics ensure distortion-free vision for the entire width of the lens

Plutonite lens exceeds ANSI 787.1 for impact-resistance and blocks 100% of UVA, UVB, and UVC light

Unobtainium hydrophillic nose and temple pads eliminate slipping

Patented three-point fit maintains optical alignment

Polaric Ellipsoid Technology for peripheral clarity

XL!
Familiarity:

I've put it through the wringer
This is my first Oakley and it didn't disappoint. Lens is absolutely amazing, you can actually see

loud and clear any potholes, water, oil on the road. Fitment is fantastic with my POC helmet and Kask. XL lens for better viewing angle is superb!. One last thing is the matte finish on the frame is very stealth.
Excellent
Familiarity:

I've put it through the wringer
I have used these for the past 6 months for mountain biking or road biking nearly every week. They offer outstanding visual clarity and eye coverage. Oakley really does engineer some of the best lenses around. The nosepiece and stems are covered in a material that does a great job of keeping the sunglasses from slipping, even when I sweat heavily. The pictures don't make it clear, but the two lenses included with this are quite different:



The polarized lens does a great job of reducing glare and increasing clarity, and they are my go-to lens. This lens has a metallic, reddish-purple reflection when viewed from the side, but from straight-on, is see-through with a reddish-orange tint. If you're looking for a lens that obscures your eyes, this might not be your ticket.



The non-polarized lens is a nice, deep black with a metallic reflection from any angle. This is an excellent lens that enhances visual clarity, especially on a super-bright day. They block more light than the other lens, but lack the additional glare reduction because they are not polarized. Most people would consider this lens to be the more fashionable of the two, due to the way it completely obscures the wearer's eyes.



The lenses are easy to switch out, and you can always purchase additional lenses from Oakley to suit your needs. I picked up a clear lens from Oakley to wear when it's dark out for $60. Again, not cheap, but you get what you pay for.
Outstanding lens clarity
Familiarity:

I've put it through the wringer
Oakley sunglasses are expensive but the lens quality is really great. with the radarlock XL's you really get fantastic coverage as well. The straight stem fits very well into my helmet, although I don't know that the regular stems would fit any better or worse.



I switch out the lenses very regularly. Once you figure out how to switch them you can do it in less than a minute.



My only issue is that the lenses do scratch very easily. I never dropped my glasses and one of my lenses managed to get a scratch. I still have no idea where that came from. For what it's worth it seems to be just cosmetic, lens clarity doesn't seem to be affected.
NEED TO ORDER PRESCRIPTION LENSES FOR...
NEED TO ORDER PRESCRIPTION LENSES FOR RADALOCK
Best Answer
Go to Oakley directly for Rx lenses. They will custom make them for you.



http://www.oakley.com/innovation/optical-superiority/prescription