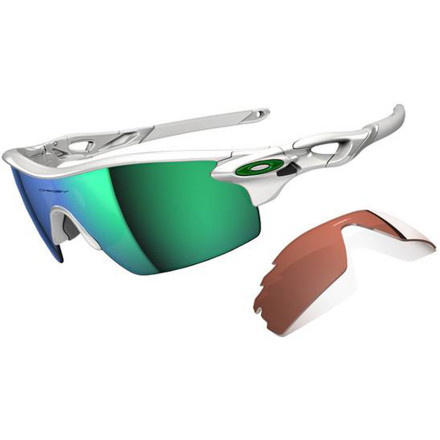 Detail Images

Videos
If you've ever worn a pair of Oakley Radars, you certainly loved them for their amazing fit, slightly aggressive styling, and amazing optics. And if you're anything like us, you probably didn't care much for the amount of flowchart-reading and elbow grease required to change the lens on a Radar. Oakley heard our troubled cries and offered up the Radarlock Pitch — a refinement of what is quite possibly the most worn and most imitated sporting sunglass on the planet.
Lay the two next to each other, and you'll notice that the geometry, frame profiles, and signature earstem exhaust ports of the original Radar and the new Radarlock are more or less the same. But that's about where the similarities end. The Radarlock is constructed from the same lightweight O-Matter polycarbonate, but the earstems are now constructed from several different pieces, giving off a more dramatically sculpted design that grants a slightly greater degree of outward flex. The O-Matter hinges are now tensioned, giving them a slight spring when opening or closing. Oakley also opted to terminate the Unobtanium rubber earsocks a bit further from the stem tips to give the glasses a better fit with many helmet retention systems, and also to leave room for perforations that allow fitment of an accessorial retention strap (sold separately).
As evidenced by its name, the Radarlock is characterized by Oakley's Switchlock technology, which allows you to change out the lens quickly and efficiently. Due to the Radar's unique Polaric Ellipsoid shield lens geometry, the mechanism is a little different than what you'd find on the Jawbone or Fast Jacket, but still very simple nonetheless. Simply engage the slider switch on the inside of the left temple, and pivot the earstem towards the inside of the lens to open the clamp. This relieves all of the mechanism's clamping pressure which enables you to slide the lens out of the frame groove and the notches on the opposing temple. If it seems like all of the switching and hinging is over-engineered to simply change out a shield lens, you'd be correct. But remember that every Oakley design that leaves their Foothill Ranch factory must not only meet, but exceed the rigorous standards set by the American National Standards Institute (ANSI). So not only must Switchlock ensure easy lens swapping, it must also ensure the lens remains snugly in place to protect your eyes at high impacts like these.
What good would safety standards be without near-perfect clarity? Oakley's patented High Definition Optics (HDO) boasts some of the best clarity in the industry. Part of the beauty of Switchlock is that the mechanism evenly distributes the clamping force over the lens to prevent any potential optical distortion. Like all of Oakley lenses, the optically-correct lenses of the Radarlock are constructed from pure Plutonite, Oakley's proprietary polycarbonate that not only blocks all harmful UV-A, UV-B, UV-C, and harmful blue light up to 400nm, but is also the heart of the impact resistance of which Oakley so proud. Each lens is finished with a hydrophobic treatment that repels moisture buildup from water or sweat, and contaminants like fingerprints or smudges from sunscreen.
The same two Radar lens profiles — Pitch, and Path, of the Radarlock are identical to those of Oakley's previous Radar. However, note that the lenses are not interchangeable between the two models, as the Radarlock utilizes a different series of notches to secure the lens to the frame.
The Radarlock Pitch sunglasses are available in 2 package options, with each frame coming with a lens ideal for sunny riding conditions, and another contrasting lens for low-light conditions. Choose between Polished Black with Black Iridium and Persimmon lenses, or Polished White with Jade Iridium and Yellow lenses. Note that both lenses included with the Polished White frame are slotted along the brow for maximum ventilation.
The glasses come in Oakley's carry case, along with a microfiber travel bag that doubles as a cleaning cloth. The glasses also come with two sets of soft Unobtanium nosepieces to best customize fit.
Oakley's High Definition Optics let you to experience outstanding color contrast, clarity, and depth perception

100% UVA, UVB, and UVC protection shields your eyes from harmful rays as well as harmful blue light up to 400nm

Singular Plutonite shield lens exceeds ANSI impact standards keeping you protected from wayward debris as you perform

Vented lens options (color-dependant) offer an array of breathable top vents to keep you fog-free at all times

Hydrophobic anti-smudge coating prevents streaks and spots from sunscreen or sweat

Unobtainium nosepads and earsocks provide a non-slip grip and comfortable feel

Note that Radarlock lenses are NOT cross-compatible with Radar lenses

What do you think about this product?
Have questions about this product?
Oakley Radarlock Pitch Sunglasses