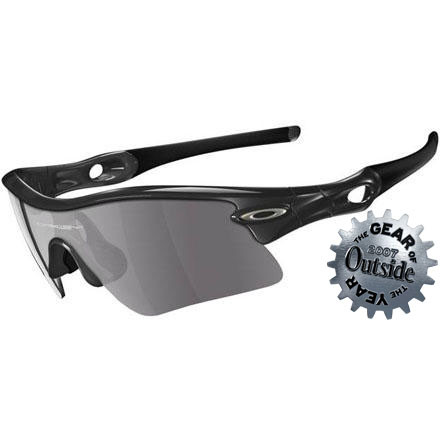 Detail Images
If you're screaming down singletrack or paddling class IV whitewater, you need to see exactly what you're doing. Rely on the full-coverage of the Oakley Radar Range Sunglasses to provide you with precise, crisp vision. The Radar Range Sunglasses offer a permanent hydrophobic lens coating that repels water, smudges, and debris so you can perform to your highest level. The Oakley Radar frame stays on your head as you move thanks to Unobtanium earpieces and nose pads that stay grippy when you perspire.
I bought these in 2010 and was very pleased with the fit and style, I'm very particular about my gear and take good care of it; unfortunately about a year and a half after owning these the polarization lens started to get tiny bubbles that were not scratches, I happened to be visiting in southern California and decided to go to the Oakley headquarters in Foothill Ranch, where I inquired about what was wrong with my lenses, I was told by their customer service that it was caused by little tiny beads of sweat and oil eating away at the polarization. I'm pretty good about cleaning my sunglasses and have never seen this before on any of my other polarized glasses, needless to say I was very disappointed to find out that Oakley does not stand behind their products and offered below par customer service, they asked me if I had a receipt, who keeps their receipt for more than a year? And also they stated that even if I had a receipt it is out of their 1 year replacement policy, I feel like this is a defect on their end because they never stated on any of their instructions about making sure the sunglasses are not just cleaned with the cleaning cloth they provide but to use water as well to make sure you get 100% of sweat and oils off. I always cleaned them with only the cloth they provided, I feel like they have gotten too big to care about one small customer. Never again Oakley as all of your competitors are glad to give you replacement lenses on something so minor. Thank GOD for Backcountry as they will stand behind all of the products they sell. I hope no one ever has to deal with Oakley customer service.
Excellent mountain biking sunglasses
I bought these sunglasses to use primarily when mountain biking. I was most concerned about good fit and protection. These sunglasses offer both! The lens is large and offers great protection from wind and debris. The fit is good and comfortable. I have had no problems with slipping or fogging. They come with a medium dark lens that is suitable for a variety of light conditions. I would definitely recommend them to a friend.
One of my first pair of interchangeables and still a great pair
I have a very narrow face, the Radar Range fits perfectly and stays in place while running down single track trails.

Honey Albrecht
Wasatch Speedgoat Mountain Racing Team
Excellent service. Never before experienced anything like it. The people that run RealCyclist get it!
Very similar to the traditional M-frame except these lay flatter against your temple. This is actually handier than it sounds... the fit more comfortably under headgear, especially helmet straps.
Awesome sunglasses! Very durable and excellent wind protection. Fits well in a motorcycle helmet. The finish on the frame has started to wear as has the rubber cover on the arms (after 2 years). Would purchase another pair.
Good pair of shades. They feel pretty durable but in my case a little to big. It would be nice if the interchangeable's were included.
Good pair of shades. They feel pretty durable but in my case a little to big. It would be nice if the interchangeable's were included.
Great Shades But Too Small
I got these thinking they would big big enough for my fat head. Wrong(I wear a 66cm hat)!!

Great shades though.
Are these the "polarized" Radar Range...
Are these the "polarized" Radar Range Sunglasses?
i like 'em, but why so spendy?
i bought the radar ranges after checking out smiths, julbos and rudy project offerings.
in terms of optics, oakleys just seem really crisp and clear with zero distortion or haze like so many glasses seem to have. the range is the largest lens that is available on the radar frame, which is good for me since i like max coverage. i use these for trail running and mtb/cycling. they are really light and don't slip down my nose regardless of how sweaty i get. at this point i have just the gray lens, but will probably get the clear lens as well for night trail running.
while i think this is a quality product, i think they are just too expensive so i can't give them five stars. i mean 150 bucks for plastic glasses and $60 for a clear second lens? come on.
This is the best pair of Oakleys I've owned. These are the best, they are great for cycling. Durable, not to dark, not to light, I can wear them before sunrise, which is nice in Arizona, because they are a must when the sun is up. Nice and lightweight and comfortable. I can't recommend them enough.
My favorite sport sunglasses so far...
Love, Love, Love these glasses. I cycle in the summer and ski in the winter in Summit County, Colorado and these glasses can be used for both since they stay on your face well. My face is medium in size and since the lenses provide good coverage, I think it would also fit a large face. I would get another pair if I ever lost these. BTW...Backcountry rocks for all your outdoor gear. The customer service is top notch.
Got these to replace my half jackets. LOVE the lens coverage and the secure wraparound; the VR28 black iridium lens that came with mine are perfect for trail and road use. The major selling point for me was the hydrophobic lens, which works really well - it keeps the sweat and mud buildup to a minimum. The only time I've ever had a problem is with a little fogging on really cold rides when I'm wearing a face mask, but that's true with any glasses. I'm looking forward to using these for years.
I know people love to hate Oakley because their so trendy and all that. But I sweat a lot, and hate the impaired vision when it drips on my sunglasses. Problem solved with the Radar. Yeah you can get Natives, or Smiths that come with other lenses. I know too many people that have to pay $30 or more for them to honor their warranties. I've had Oakley's since the Razorblade and never had a quality issue. I live in Kodiak and live outdoors: kayak, mountain bike, hike, run, ski, hunt, fish. Maybe the biggest reason I stay with Oakley is that after almost 20 years, I know exactly what to expect from their lenses.
ARE THESE A 1-PIECE LENS????
ARE THESE A 1-PIECE LENS????
Best Answer
Calm down, sir. As should be evident from the picture, yes, they are a 1-piece lens. There is a plastic piece at the bridge of the nose, so it's a tiny bit obstructed anyway, but the lens is one piece. Also, your Caps Lock key seems to be stuck.