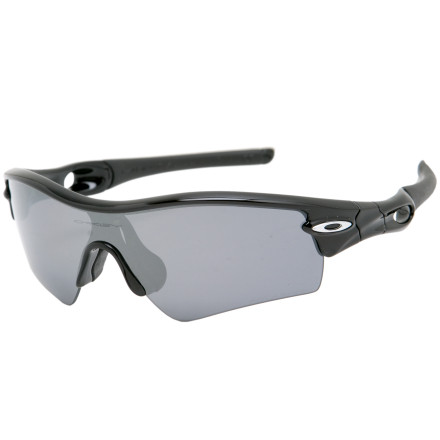 Detail Images

Videos
The Jet Black frame offers full-on fashion versatility -- no matter what you wear, Jet Black is the perfect match. But what sets this model apart from the rest of its Radar brethren is its lens technology. Oakley has long spread the gospel about their Black Iridium lenses: It's a superb choice for the spring and summertime since it transmits only a fraction of the available light to your eyes, making it ideal for bright, sunny days. The Iridium coating creates a uniform filtering layer that optimizes contrast and reduces glare. In addition, these lenses are Polarized, which cuts glare even further in comparison to a standard Iridium lens. No Radar lens transmits less light than the Black Iridium Polarized -- only 9% of the light comes through. On bright days, this is your best bet.
The Radar is Oakley's first new cycling-specific design since the M-Frame -- that's a 15-year span between re-designs, testament to just how popular the M-Frame became. Amazingly, though, while the Radar bears similarities to the M-Frame, it's clearly a far improved set of eyewear. Like the M-Frame, it has no lower ledge to the frame, so you get an uninterrupted field of vision. But improved is the updated look that is modern, almost high-fashion. The frame itself was re-designed to fit more types of faces with greater comfort.
And then there are the surge ports. These are the holes molded into the arms. The ports direct air inside the arms so heat and sweat don't build up behind the sunglasses and arms. And unlike certain models of the M-Frame, the arms of the Radar fold. The lens is large in a modern, high-fashion way without being too big -- a design Oakley calls the "Path" lens. We prefer the Path lens because we believe it is large enough to protect the eyes while being small enough so it doesn't overheat the head and seal the eyes off from the world. And overly big glasses fog up too easily. For those who are familiar with M-Frame lenses, this is kind of between the Hybrid and the Sweep. The next larger size of Radar lenses is the Pitch, and the largest is the Range. As with the M-Frame, the Radar has interchangeable lenses. Not only can you change tints, but shapes.
In comparison to the iconic M-Frame, the Radar has a new lens shape, a new frame design, and a choice of nosepieces (you get 2 of them, in order to customize the positioning of the Radar on your nose) -- all of which mean better fit. One other vital detail is that the lens is hydrophobic with a new oleophobic coating for better vision. Sweat won't streak your lens and muddy up your field of view. Rather these coatings cause moisture to run off the lens with no residue.
The frame is made from Oakley O-Matter. There is soft Unobtanium at the temple ends and the nose to better grip the face. Unobtanium is slightly hydrophilic, so it will grip better when wet and sweaty. The lens is made from Plutonite and has Oakley's famed High Definition Optics (HDO). The Radar comes with a zipper case that has room for a spare lens and a microfiber bag that is both a lens cleaning cloth and soft storage.
Perfect lens for fast group rides.
Familiarity:

I've used it several times
landed on these after trying the Racing Jacket, Flak Jacket, and M2. Racing Jacket is amazing, but the frame slightly obscures peripheral vision and forces you to really crane your neck when checking the rear. Flak Jacket didn't provide enough lens coverage for my melon head, and the M2 allowed in too much air which really dried out my eyes. Radar Path lens size is perfect for larger faces, the frame allows for an exceptional field of view with no obstruction, and the airflow is perfect. Didn't fog once over 55 miles! At one point I completely forgot I was wearing them.
Great glasses
Familiarity:

I've put it through the wringer
I like the VR28 lens, and Red Iridium polarized lenses for sunny days. The red lens is my go to for bright days. I also have clear lenses for night rides and they have been good too. It's hard to find a fault with these, they just work.
One of the best
Familiarity:

I've put it through the wringer
I dont think you can go wrong with Oakley's. They were amazing during our hot summer. Tons of lens options too.
Oakley Radar Path Polarized Sunglasses
Good shades, wish the lens was wider
Gender:

Male

Familiarity:

I've put it through the wringer
I bought these glasses for running and cycling. The frames are super comfortable and the polarized lenses are great. These are a 5 star hotel for your eyes.



My only issue has been that I purchased the path lens assuming that it would provide stupendous coverage. If you are running or cycling north and south around dusk or dawn, you might still get too much sun coming in the sides. I will be buying the range lens next time I make a purchase.
Oakley Radar path polarized
These are byfar the best sunglasses i've ever purchased, I have a pair of half jackets and canteen but this pair beats them both i recommend this pair for any oakley enthusiast.
Hard case, soft case, extra nose piece and sunglasses.
Great protection from sun on top of good looks.
Great pair, but no long lasting...
This is great sunglass! Great fit and very clean lens. I was really happy to get rid of my M Frame.
But, after two months of usage, I started noticing noise coming from frame. Also I feel vibration, too. I wear this for running almost everyday, and I really can't stand any noise coming so closed to my head (I don't like wearing any MP3 while running…I have no death wish, trust me)
So, I'm just wondering if I got a bad batch, or frame is already giving up on me. It's not really acceptable after a month of regular usage, and this is advised on Oakley website as sports specific. I may return to Oakley claim department and see if replacement will do the same on me…
No complaints just praise on this. Feel great, perform great, look great. Polarized obviously is a must and the technology Oakley offers completes the list. I sweat a lot hiking and biking and these perform as stated on the site. Drips slide right off and even though the path isn't as big as the others it covers plenty of space and keeps out the wind allowing for pure comfort while doing any activity. Recommend!