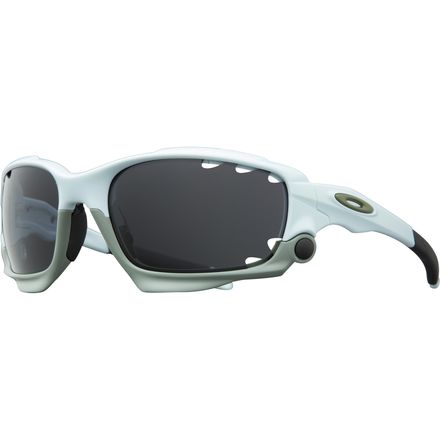 Videos

Community Images
When the Jawbone was released in 2009, it was easily one of the most outspoken, yet fashion-forward statements in eyewear available. Flash forward to today, and little has changed - the Oakley Racing Jacket continues the tradition of the Jawbone's aggressive styling and superlative fit as still unrivaled in cycling eyewear. It seems like the only manufacturer capable of topping the bold aesthetic of the Jawbone, is Oakley themselves, and for now, they're content with simply improving on the Jawbone.
If the Oakley Racing Jacket Sunglasses look a little bit like the Jawbone, that's because they are - almost. The Racing Jacket is constructed from the same flexible but highly durable and lightweight O-Matter frame. The aggressive frame geometry is retained, along with the deep, 8.75-base curved lenses that provide an excellent neck-saving vertical periphery when you're tucked deep in the drops. The Racing Jacket also includes the same revolutionary Switchlock technology that allows you to easily swap out your lenses and quickly adapt to changing sunlight. Oakley has evolved the feature set of the Jawbone slightly though, making the Racing Jacket a slightly more comprehensive performance package. Firstly, you might notice that the earstems are now perforated, which allows for fitment with an included retention strap for extra security. This opens up a whole host of convenience in moments when your sunglasses have to come off and you can't feasibly free up both hands to tuck them into a jersey pocket or on your helmet - simply let them dangle from the security of your neck. But should you prefer perching your sunglasses on your helmet, or just don't find the strap an absolute necessity for cycling, it can be easily removed. The Racing Jacket is also slightly customizable, as you can now also change out the colored 'O' icons on the earstems with the aid of a paperclip. A simple detail, but one that shows Oakley is listening carefully to those who prefer to tailor every aspect of their kit to match perfectly - something of which we're certainly guilty as charged.
The Racing Jacket is characterized by Oakley's superlative Switchlock technology, which performs several key tasks at once. Firstly and perhaps most obviously, it allows you to change out the lens quickly and efficiently. Simply "unlock" the nose pads and the "jaw" unhinges, allowing you to remove the lenses. If you're not in a major rush and have a somewhat steady hand, you can change lenses without leaving any fingerprints. Switchlock's second and third benefits go hand-in-hand with each other. If it seems like all of the switching and hinging is over-engineered, you'd be correct. But remember that every Oakley design that leaves their Foothill Ranch factory must not only meet, but exceed the rigorous standards set by the American National Standards Institute (ANSI). So not only must Switchlock ensure easy lens swapping, it must also ensure the lens remains in place to protect your eyes at high impacts. To achieve a tight fit that passes the ANSI tests, the lens would be under considerable pressure and could risk flexing, thereby distorting Oakley's pristine HDO lens clarity. Oakley has engineered around the problem by creating a unique lens bumper on both contact points in the clamping channels. This Switchlock design enables the lens to inherently 'float' securely within, without compromising the optics, or your eye protection.
What good would safety standards be without near-perfect clarity? Oakley's patented High Definition Optics (HDO) boasts some of the best clarity in the industry. These optically-correct lenses are constructed from pure Plutonite, Oakley's proprietary polycarbonate that not only blocks all harmful UV-A, UV-B, UV-C, and harmful blue light up to 400nm, but is also the heart of the impact resistance of which Oakley so proud. Each lens is finished with a hydrophobic treatment that repels moisture buildup from water or sweat, and contaminants like fingerprints or smudges from sunscreen.
The Oakley Racing Jacket is available in six color and lens combinations. Each pair of lenses is essentially tailored for two kinds of lighting, bright light or low light. There's a bit more finite tuning between the contrast-enhancing Persimmon that best enhances colors on the trail, versus the G40 lens which is perfect for enhancing flat light on cloudy or winter road rides. But for the most part, you'll start with two lenses that should cover a broad light spectrum across most riding conditions. It's also worth noting that if you have already amassed a collection of Jawbone lenses, they are fully compatible with the Racing Jacket. Your color and lens choices are as follows: a Matte White frame with Fire Iridium and Persimmon lenses, Matte White Frame with Jade Iridium and Clear lenses, Polished Black frame with Black Iridium and Persimmon lenses, Polished Black frame with Black Iridium and G40 lenses, Polished Black with VR28 Blue Iridium and Light Grey lenses, or Polished White frame with Violet Iridium and Light Grey lenses.
The glasses come in a soft carry case, along with a micro fiber travel bag that has pockets for spare lenses and doubles as a cleaning cloth. The glasses also come with two sets of nosepieces to best customize fit, as well as a contrasting pair of interchangeable icons so you can precisely match the sunglasses with your race-day kit.
O Matter frame offers a balanced, pressure-free feeling and is incredibly durable, flexible, and lightweight

Oakley's High Definition Optics let you to experience outstanding color contrast, clarity, and depth perception

The highly curved 8.75 base lens geometry ensures better peripheral coverage and less distortion

Unobtainium nosepads (two sizes included) and earsocks provide a non-slip grip and comfortable feel

Lenses ensure 100% UVA, UVB, and UVC protection, shielding your eyes from harmful rays as well as harmful blue light up to 400nm, in addition to exceeding ANSI impact standards

Hydrophobic anti-smudge coating prevents streaks and spots from sunscreen or sweat

Lens scratched after only a few rides
About 3-5 rides in and only after cleaning the glasses with the provided cloth, and a few times with my jersey, the lenses are scratched. For glasses as expensive as these they should be built from sturdier stuff.
Great Eye Protection at Top Speeds!
Familiarity:

I've put it through the wringer
A number of the guys and gals in my cycling group have the Oakley Racing Jackets, formerly known as the Jawbone. I was torn between these and the Radar Path glasses, I decided on the Racing Jackets, and here's why:



The Racing Jackets have a lower lip that extends below the bottom frame and provides a little more eye protection. I've taken a small rock to the face on more than one ride and know how easily a rock can fly up under a lens. The Radars don't have a lower lip and leaves some room for a rock to potentially sneak through and hit your eye.



It was a tough decision too because the Radar Path glasses give you a little more visibility by not having the lower lip.



Oakley uses a patented lens material they call Plutonite which is extremely durable and still blocks the UV Rays. After looking at the Oakley website, I learned that their Plutonite also provides exceptional visibility, which is important when going downhill at speeds over 50mph!



I sweat a lot and it's nice to quickly change my lenses at the group rendezvous point without hassle. The Racing Jackets make changing my lenses easy enough to swap in less than 2 minutes.



I wanted a good pair of glasses that I could count on for eye protection, great visibility, and general good looks and the Racing Jackets fit the bill.



Pros:

+ Awesome Oakley Styling and Design

+ Swapping lenses is a snap and takes less than 2 minutes

+ Lower Lip on frame provides solid eye protection

+ Dropped numerous times without breaking the frame

+ Fits perfectly into Giro and other branded helmets

+ Easy to customize w/ Different colored Ear Socks, Thru Bolt, and Icons



Cons:

- Sweat can get in your eyes if you look down too often



Tips:

+ Water can clean lenses quickly

+ Bring a small cut piece of Microfiber w/ you to clean lenses

+ Bring replacement lenses to swap out on long rides

+ Wash with water regularly to prevent salt build up from sweat


Sport sunglasses at their best.
Familiarity:

I've put it through the wringer

Fit:

True to size
Oakley changed these over from the Jawbone, and that is what I am reviewing. It's the same product. I copped my blue pair with grey lenses on steepandcheap for $80 bucks so that was nice. I also ordered another pair of lenses from my local running store to use in lower light. After reading other reviews, I decided on the G30 lens, and I couldn't be happier. The pink tint with the iridium coating enhances contrast everywhere, and they look cool. I use the G30s most often, but I do sometimes use the grey in consistently bright conditions. The switchlock tech is easy to use and quick when you want to switch lenses. I will be getting a pair of radarlock paths for my next pair.
I have two pairs of these and use them primarily for cycling. I have mixed feelings about them. I am a mountain biker, but I road ride on my MTB as well, to build my base and as an option when the trails are muddy in winter.



They look great on and provide great protection from wind and debris, even at higher speeds and on the fast descents. They don't leak light, and are pretty comfortable. The lenses are super easy to swap out, probably more so than any of my other shades.



All glasses, however, get compared to my benchmarks, my Radarlocks. The Racing Jackets feel heavier, tend to move around more, and definitely fog more, especially on long, sustained climbs when the weather is cool and damp (typical for the mornings here in coastal Southern California). I also find the lower portion of the frames to be somewhat distracting in my field of view. Sometimes it bothers me, sometimes it doesn't.



All said, I rotate them in and out of my starting lineup as my mood changes. They are solid shades, but the Radarlocks are still my favorite style.
Great Biking Shades
Familiarity:

I've put it through the wringer
I love these shades for mountain biking. The lenses are incredibly durable and offer good eye protection. These shades are not polarized, which I prefer for mountain biking. I find that polarized glasses give me headaches when I go through trees due to the alternating light and dark areas. These lenses allow for eyes to adjust better those transitions of light to dark. I also like how easy it is to change out the lenses, if it is cloudy out you can put in a high contrast lens that really brightens up the trail. If you have any questions about these glasses feel free to give me a call.



always happy to talk about bikes or gear or the weather. Whatever works! I?m here Mon, Tues and Friday 1:30-10pm MST and Saturday 9-5:30 as well as Sunday 10-7. I look forward to speaking with you.
Oakley Racing Jacket Sunglasses
Great mountain biking sunglasses
I love these shades for riding, they dont fog when you are moving, when you stop and do get some condensation, just start pedaling again and the airflow through the lens will clear out the fog. A great design that keeps you from pulling them off your face and wiping them down.
The best.
Familiarity:

I've put it through the wringer
Awesome sunglasses for active-wear. They fit snug, but they're not uncomfortable. They really stay in place and I don't have to constantly shift them like I have to with other sunglasses. The lenses are extremely easy to swap out even on the go. When the trail turns to snow, I can swap out to a darker lens in just a few seconds right on the trail. The vented lenses don't fog up but still block the wind which is nice when you're riding at a steady 20mph pace while cycling. If you're looking for one pair of sunglasses that does it all, this is it.
Great Shades
Gender:

Male

Familiarity:

I've put it through the wringer
I have owened 2 pairs of these shades. I lost my first pair of Jawbones on a ride and did not hesitate to buy a second. They are comfortable and block the wind very well. I mainly use them for cycling and running but I am sure they would be great for any sport or activity. I also have a pair of the photochromatic lenses which are fantastic. They are my go to lens for mountain biking with varying light conditions. I highly recommend these shades for any active person.
The Oakley Racing Jacket = Oakley's New Version of the Jawbones
The new Oakley Racing Jacket Sunglasses are great for everything from Cycling to Running to Golf or even just hanging out. For people looking for the Oakley Jawbones, the Racing Jacket is Oakley's new version Jawbone with some new features such as the retainer holes at the end of each arm. Great sunglasses that will go anywhere and do anything with ease - highly recommended.
With spoilers and vented lenses, these shades were meant to do fast things. They are pretty light and have much larger lenses than I had anticipated - probably closer to the size of a pair of Gascan lenses, but without all the bulk in the frame. They feel very comfortable when on my face, and hug tight enough to not come off but not too tight (I wear a medium sized helmet for comparison). If you do happen to be doing some really sketchy stuff, they do have an adjustable elastic strap that can be easily attached to ensure the security of your shades at high speeds. The shades also come with an Oakley zippered case which neatly holds your shades and a few pairs of spare lenses. Swapping lenses is very easy to do by simply lifting the locking nose piece and rotating the "jaw" away. Plus when wearing the lighter, persimmon lenses I certainly feel like I belong on an Olympic rifle team. I have been wearing these everywhere, and I would definitely recommend these to anyone looking for a pair of interchangeables.
Don't think it twice Just buy it.
They are the same Jawbone style of my other ones but the colors of this ones and the way air gets in, not allowing any breath disturbance is great.
will the Jawbone lenses fit in the Racing...
will the Jawbone lenses fit in the Racing Jacket?

I spoke with Oakley and it turns out the lenses are compatible. This is for the Jawbone and new Racing jacket which looks exactly like the Jawbone except for the strap. Turns out the only difference is the icons are slightly larger on the Racing jacket. The arms are even interchangeable between the two.
Best Answer
Bozman, you are correct - our Oakley rep confirmed that the Jawbone lenses fit just fine in the Racing Jacket. The Jacket isn't a reboot, as it uses the same lens profile and frame geometry (the same molds, essentially) as the Jawbone.