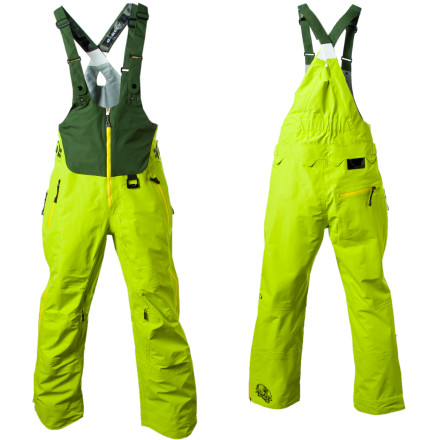 Detail Images

Community Images
From the pro himself, Seth Morrison, comes the Oakley Primed Bib. Whether you're crushing it in the park or just airing it out, 30/20K waterproofing and breathability means you stay warm and dry. Boot gaiters, pant-cuff savers, and snap snow-skirt compatibility help seal out the cold wet stuff when you spoon a jump and land back-asswards.
Articulated knees and a loose fit make for the ideal park bag
Two-way waterproof side zips fully seal out moisture
Two-way crotch vent
Embroidery detail on Seth's colorway adds a touch of flair, but you better earn it.
Unanswered Question
What is the exact measurement of M size...
What is the exact measurement of M size inseam by cm??
Does anyone know where I can find a pair of ski pants that fit? I have a short inseam and a big gut.I can go to my local "Fleet Farm", Wal-mart,or "Kohls" and buy blue-jeans that fit perfectly. I can get the waist size and length . NO Problem. For $ 25 or less. WHY then , when it comes to ski pants , my choices are, small med lrg, and xlrg. Doesn't anyone sell skipants that I can buy with my inseam and waist? Thanks in advance for your help, Skinny
These pants are uber waterproof and are a great shell. My only complaint would be how tight they are in the bib portion. I found when I try to sag them a bit, the bib is tight around my hips. Not a flaw, just a comment if you're thinking of buying and sagging the crap out of them. Overall sick pants and the enamel orange is BRIGHT.
Best Pant I have ever owned
Seth really hit his mark this year, these pant are the most well designed bibs I have ever owned. Amazing material, great fit, and an awesome design. I am 6'4" and they fit me great. Highly recommend them.
Best bibs I have ever owned or seen. Super comfy and very useful in every way, including draining the bank account. Id buy them again tomorrow if I had too!
Anyone have these for a year in wet snow?...
Anyone have these for a year in wet snow? Any issues with the 30k not holding up? I really want these but Oakley does not do Gore and I know and trust in Gore so I am skeptical if these will hold out water in the long run. Thanks
Best Answer
I used them all last season. During the first week in them I was in the rain skiing loveland. The outside got wet, but not the inside. All in all no matter what material you have you will have to replace the DWR coating, which goes away after time. Nik wax, that what I use after washings.
i am 5 foot 9 145lbs i wear a small in my...
i am 5 foot 9 145lbs i wear a small in my northface pants will the small fit me with the bib i wear 30-32 jeans

Seth thanks you for making a cool bib been looking for one for skiing the trees
I am 5 foot 10 155lbs and I wear a large.
Bill, what size have you chosen?

Seth,

is waist the only difference between M and L size?
Will be L too long and bulky for me?
I'm 5'7" 158lbs
Does anyone know if the lower legs/cuffs...
Does anyone know if the lower legs/cuffs are reinforced to stop edge/boot/crampon cuts?
No they are not reinforced.
I'm 6'6", 210 lbs, 34" inseam and 34"...
I'm 6'6", 210 lbs, 34" inseam and 34" waist. I'm wondering if this bib is tall enough for me. I usually have problems with the suspenders not being long enough, causing the crotch to be too high and the legs too short. I'm a solid large in most Oakley pants, but will that fit, and should I go XL? Or skip the bib altogether...
Go XXL for sure if you want a comfy fit
Lots of input on this one for me. The best material Oakley has used to date. Taped seamed 3 layer shell. Lots of venting from side and horse shoe crotch zipper. Horse shoe zip has an inner access zipper to pee out thorough the mesh without having to disrobe the Bib. Side zips are water proof zippers open from top or bottom large zipper pulls. Suspenders have silicon on the side that touches you, adds a non slip of shoulder factor. There are 2 hidden pockets just bellow the suspender adjustments on the side of the pant. Very breathable and light. You can snap the pants to Oakley other jackets that have that capability from its storm skirt to make a one piece to keep you dry in the deep stuff. The fit is loose and sculpted to your body with knee articulation. I use the enamel mint/dark forrest color. This colorway comes with embroidered skulls on the lower part of the cuff, the other colorways don't come with the skulls. Nice sized hand pockets on front and one back pocket, both with water proof zippers and nice sized pull tabs.