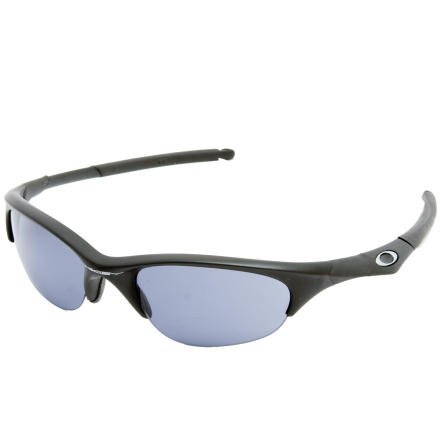 Detail Images
The Oakley Half Jacket Array Sunglasses feature three interchangeable sets of lenses to help prepare you for changing light conditions while you bike, run, hike, or just cruise around town. Oakley's High Definition Optics provide razor-sharp clarity, and the interchangeable nose and arm pads are made from Unobtanium, which actually increases its grip when you sweat. The Three-Point Fit ensures the frame makes contact with your head only at the bridge of your nose and your temples.
I have had these glasses for 7 years, and between lifeguarding, running, biking, hanging out on the beach, anywhere you go these things are good. They also have a frame that is super lightweight, but strong as can be. They've fallen from being held in my helmet a few times while mountain biking and I ran over them, not a thing wrong with them. I also really like how there are no metal hinges to allow for any rust to ruin them. These things have been all over the place with me and haven't skipped a beat.
Unanswered Question
What are the 3 lens colors that are...
What are the 3 lens colors that are included?
Last pair of glasses I will ever buy
The Oakley half jacket is the ultimate in interchangeability. You can be rocking Persimmon lenses in the morning and then switch to a mirrored blue lens in the afternoon as the sun gets brighter, then to a clear lens at night for those mt bike rides when the sun goes down. The options are limitless. I typically have mine with the transitions lenses that I picked up to go with them, they allow me to use 1 lens and do everything short of late night rides, for which I carry along some clear lenses. They are super comfortable, extremely easy to change out lenses, and crystal clear optics. By far the best sunglasses I have ever owned.

That being said, they are a little small framed for people with bigger heads, I recommend you try them on before purchasing (as you always should with eye-wear)